KWPN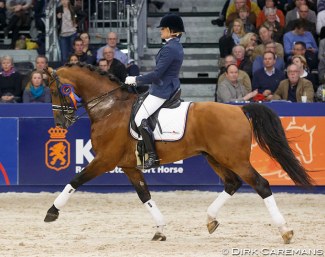 No less than four out of 19 Gelderlander licensed breeding stallions have been tested positive as a carrier of the WFFS gene. Dressage bred Gelderlander stallions Koss and Parcival as well as Wilson and Vitus have tested positive. 
Renowned Gelderlander stallion Koss (by El Corona x Goudsmid), as well as his sons Parcival (by Koss x Unitas) and Wilson (by Koss x Cabochon) and grand son Vitens (by Parcival x Zep) have all tested positive to the genetic defect known as Warmblood Fragile Foal Syndrome (WFFS). 
Especially Koss is a very well known and popular Gelderlander stallion who has produced 385 offspring, including licensed sons Parcival, Alexandra P (sire of Adelinde Cornelissen's Henkie) and Wilson.
Alexandro P as well as his son Henkie have tested negative to WFFS. 
So far 314 KWPN licensed stallions have been tested and 14 of them have tested positive: Everdale, Guardian S, Habanna, Inclusive, Indian Rock, Inspire, Jack, Jubel Es, Regino, Total U.S., Koss, Parcival, Vitens, Wilson, 
The complete list of KWPN tested stallions can be found here.
Photo © Dirk Caremans
Related Links
Seven KWPN Licensed Dressage Stallions Positive to WFFS
Two Everdale Sons Test Positive to WFFS, Dutch Stallion Owners Take Action, Germany In Denial
Everdale Confirmed WFFS Carrier, Van Olst Offers Free Testing to Its Breeders
KWPN To Test All Its Licensed Stallions for WFFS
Breeder with Dead WFFS Foal Writes Open Letter to Danish Warmblood