2018 CDI Wiener Neustadt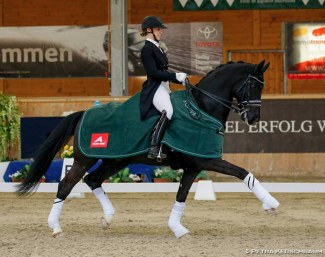 Austrian young Grand Prix rider Karoline Valenta wielded the axe of power in the Under 25 division at the 2018 CDI Wiener Neustadt international indoor dresssage competition on 31 March - 4 April 2018. 
In a field of 10 competitiors, Valenta and her black Diego scored 72.000% to win the Intermediaire II, 69.026% for the trophy in the Short Grand Prix and 74.550% for the victory in the Kur to Music. 
"Diego actually was very impressed from the arena," Karoline told Eurodressage about her feeling in the arena at Wiener Neustadt. "At first sight the arena does not look intimidating. however, the noise level was all to one side of the arena which he had to get used to. Overall, winning three times in a row, how could you not be happy about these results, right? Nevertheless our first two rides were not as smooth and confident as we have showed before. That's why I was even happier on the last day at our freestyle when our harmony was back and everything worked out so well."
Valenta has a long-standing partnership with her 12-year old Hanoverian gelding Diego (by Desperados x Hohenstein). The family purchased the horse as a youngster in Germany and the combination made its CDI debut in the spring of 2014 at young riders level when the horse was 8.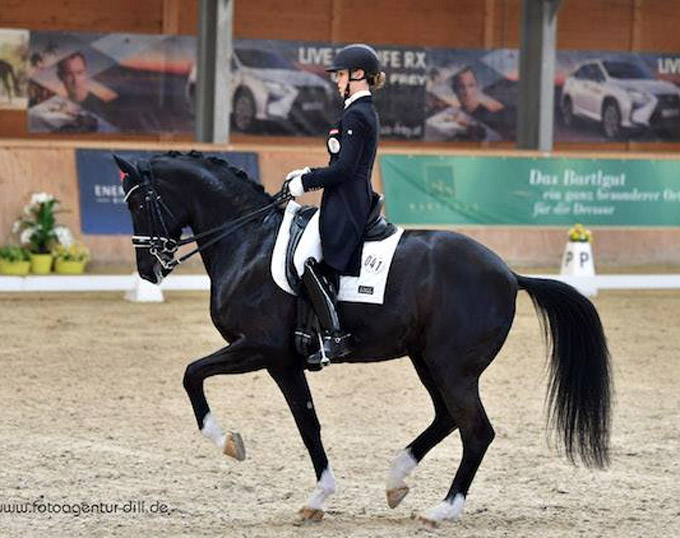 Valenta and Diego took the Austrian Young Riders circuit by storm, win the CDI-Y Lipica that year and was member of the Austrian team at the 2014 European YR Championships in Arezzo, where they finished 13th in the Kur to Music finals. In 2015 they moved to the senior small tour division as the horse was being schooled up to Grand Prix level. Their first interntional GP test came in 2016 at the CDI Munich at Under 25 level. By 2017 the duo found their stride and won all three rounds at the the CDI St. Margarethen in May and rode at the CDIO-U25 in Aachen. At the 2017 European Under 25 Championships they landed an impressive fourth place, just short of an individual medal.
The winter of 217 and beginning of 2018 have taken a flying start as Valenta and Diego have been undefeated so far. They won the Under 25 division at the CDI Salzburg in December and now scored a triple in Wiener Neustadt.  Valenta is coached by Austrian Grand Prix team rider Christian Schumach.
"Actually, since our last international competition was at the beginning of December at the CDI in Salzburg, we took time off," Valenta said about her winter training programme. "Our last season was amazing and Diego achieved so much that he definitely deserved Christmas break. I of course exercised him, but no hard work, just some fun and relaxation to fill up the energy for this upcoming season."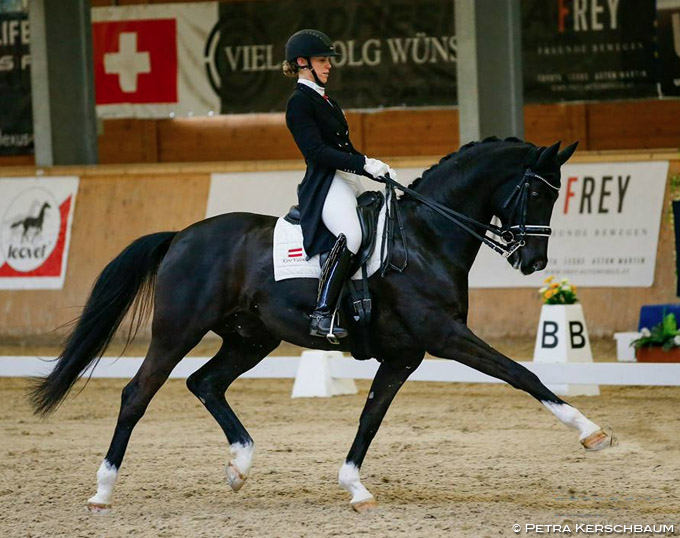 The 24-year old Karoline is in her last year as an Under 25 rider and has set her sights on the European Under 25 Championships in Roosendaal, The Netherlands, in August. 
"Even though we are also qualified for the (senior) big tour, I decided to make use of my last year competing in the U25," said Karoline. "Our first qualification for the European Championships has been last weekend at Wiener Neustadt. Our next stops will be CDI Linz and CDI Achleiten and then hopefully Aachen."
Karoline is completely focusing on Diego this year, even though she has a 4-year old in training. Her first Young Rider's horse Fabian (by Fabriano x Goldstern), which she competed from YR level through U25 between 2012 and 2016, has been retired from sport last winter. The 20-year old now enjoys his retirement in the field.
Photos © Petra Kerschbaum - Rainer Dill
Related Links
Scores: 2018 CDI Wiener Neustadt
Benjamin Werndl Makes Headlines with Daily Mirror at 2018 CDI Wiener Neustadt
Lisa-Maria Klössinger On Point at 2018 CDI Wiener Neustadt
Famoso, New Rising Grand Prix Star at Werndl Yard in Aubenhausen