Kathmann Final Sale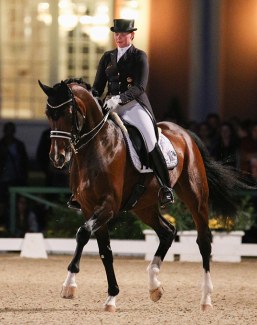 The Kathmann family has decided to add its Grand Prix horse as a highlight to the comprehensive collection of over 20 horses that make up the Kathmann Final Sales on 22 April 2018. Internationally competed Grand Prix horse Fürstenglanz will also be sold at auction at the Final Sales. 
The 12-year old Oldenburg bred gelding Fürstenglanz is probably the one Grand Prix horse that has been offered for sale this year without any dealers or agents involved. This is a unique chance for an ambitious rider to acquire a horse secure in all the Grand Prix movements for this show season, directly from its long-time owner who reared the horse and trained it up to Grand Prix level.
Fürstenglanz was acquired by Kathmann as a foal in 2006. The gorgeous son of the Grand Prix successful stallions Fürstenreich and Diamond Hit was licensed as a breeding stallion as a 2.5 year old. However, he has hardly bred and was focused on sport instead.  He has been gelded a while ago and was competed at international Grand Prix level by Andrea Timpe, who showed him at the 2017 CDI Wiesbaden, for instance. The pair finished second in the Kur in the Munsterland Halle and achieved several victories in classes from M-level to Intermediaire II.
Furstenglanz is a real opportunity to buy a confirmed Grand Prix horse in a fair and transparent way. 
The public presentation of the auction horses will be on Sunday 22 April 2018 at 11h09. The auction begins at 15h00.
Digital X-rays of all horses are available.  This is a unique chance to buy your dream horse in Holtrup. 
Videos and further information on the horses can be found at www.dressurpferde-kathmann.de
Discover the auction catalog here or visit the auction office websitewww.mennraths.de
Related Link
Kathmann Final Horse Stock Sale on 22 April 2018