Stalllion at Stud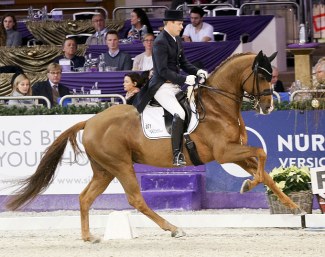 Name: Desario
Breed: Hanovarian
approved for Hanover, Oldenburg, Westfalen, Rhineland, all South German federations 
Year of Birth: 2009
Sire: Dimaggio
Dam: St. Pr. St. Germain
Dam Sire: Pik Pavarotti x Grenadier x Arsenik
Height: 172 cm
Stud fee: chilled semen 1000€
frozen semen for Europe available on request
Power, energy, extraordinary willigness to work and learn, intelligence, three gaits with no weakness, and excellent ability to collect: these are the features of the international calibre, stunning 9-year old Hanoverian stallion Desario. Aside from his physical talent,  Desario stands out with his amazing character. He is friendly and nice in barn, and very reliable in the show ring.
"I am always impressed about Desario's development," says his rider Oliver Oelrich, who is also the German Junior/Young Rider assistant team trainer and head of dressage for the German Stallion Sport Tests. "You show him something once and next day it is just normal for him. With all my training duties I am only able to ride Desario two, sometimes three times a week and we are still able to compete against the best horses of his age."
Strong Career in Sport
Desario was licensed at the 2011 Westfalian Stallion Licensing and sold to Gestüt Westfalenhof at the auction. He successfully completed his 30-day performance test in 2012 and made his show debut in 2013 with successes in the riding horse classes and dressage horse A-level. His dressage career has been exemplary as he gradually moved up the levels and produces good results in the arena. In 2014 he competed at L-level and in 2015 he qualified for the Bundeschampionate at M-level.
In 2016 Desario showed his talent for FEI level and became victorious at M** and S*-level. In 2017 he competed at Prix St Georges and Intermediaire I Level at prestigious shows like Münster K&K Cup, Hagen, Schenefeld, Donaueschingen, and Nürnberg. Under Olivier Oelrich he was a finalist in the 2017 Nürnberger Burgpokal in Frankfurt.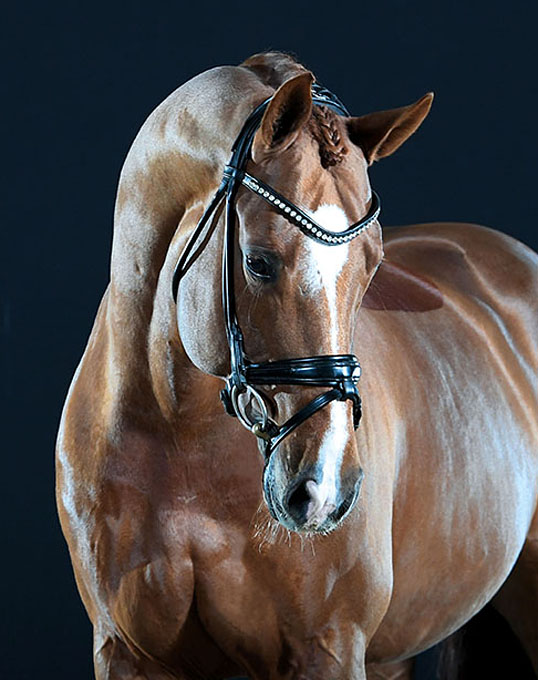 "He is a real Dimaggio son," Oliver Oelrich added. "He has so much talent for collection. It is as if he had a fourth gait - the Pi&Pa gait, this is so easy for him and he even enjoys doing it. I am really looking forward to the future of Desario."
Desario is a typical Dimaggio offspring with incredible talent for piaffe and passage. He is now working towards Grand Prix level and much is expected of him.
Outstanding Pedigree
Desario's sire Dimaggio (by Don Primero) was the 2000 World Young Horse Champion. He has produced 22 licensed sons in Germany and no less than 58 offspring successful at S-level . Dimaggio get is highly wanted by professional and amateur dressage riders for their great rideability, willingness to work and talent for piaffe and passage. Dimaggio has sired many internationally successful Grand Prix horses, including Half Moon Delphi (Michael Eilberg), Discovery OLD (Heiner Schiergen), Don Luis (Karen Tebar),  Duke of Britain (Frederic Wandres), Dieu D'Amour (Alexandra Sassler), etc. 
Dam, St. Pr. St. Germain (by Pik Pavarotti) has been a top producing mare with no less than four of her offspring successful at S-level and higher: Decameron (by Donnerhall), Dario Fo (by De Kooning), Don Falco (by  Donnerball) and Desario. Decameron and Desario are both licensed stallions
Grand sire Pik Pavarotti was highest selling horse at the first PSI auction and his bloodlines goes back on the legendary Pik Bube I, one of the most important Hanoverian stallions of all time. Grand dam St. Pr. St. Gatinka won the 1987 Louis Wiegels Mare Show and was twice a finalist in the German Mare Championship in Verden and Aachen. She is also the grand dam to the international, licensed Grand Prix stallion Furstano (Juliane Brunkhorst). Great grand sire Grenadier goes back to the legendary Hanoverian foundation line of Grande through Grunewald, who sired Monica Theodorescu's Olympic horse Grunox.
Desario is bred out of the Hanoverian damline of "Pension" which produced licensed stallions Decameron, Furstano, Diacontinus, Perpignon, Riedinger, Favourit, Don Sergio, Walzertraum, Willem's Ass I-III and many more
Beauty and Performance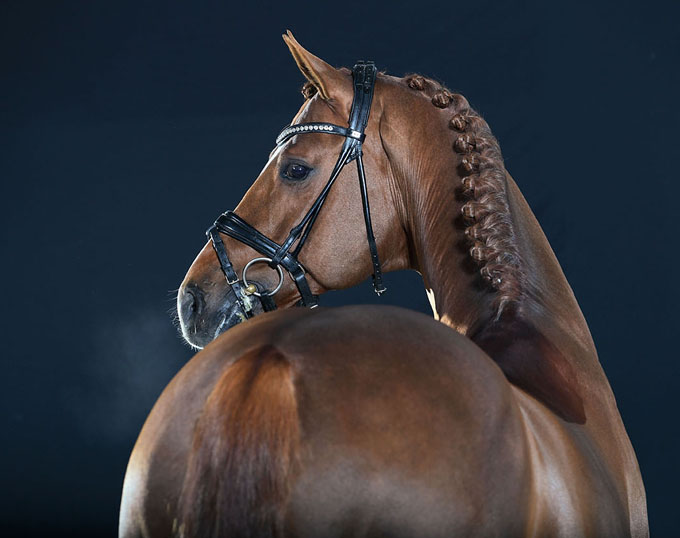 Desario's breeder Heinrich Ramsbrock, one of the biggest breeders in Germany, stated that "Desario's dam Germain is one of the best mares we ever had. She was reserve mare champion in Oldenburg. We had and have very special offspring from her but when Desario was born, it was the coronation of her breeding career. He was in a herd of 40 colts, but every time somebody was looking at them he stood out with his beauty, gaits and his cheerful way of being."
Desario is the perfect choice for breeders who wish to combine athleticism, rideability and the best performance blood Hanover has to offer.
Videos: Desario Donaueschingen 2017 - Desario Nürnberg 2017
Stud contact info