Pony for Sale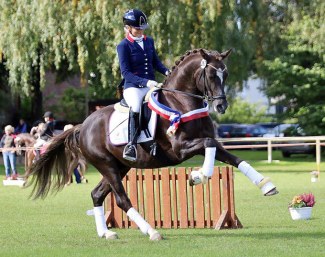 Name : Petit Magic Moment
Breed: German Riding Pony
Year of Birth: 2011
Sire: Petit Magic Colour
Dam Sire: Colonel
Gender: stallion
Height: 148 cm
Price category: 100,000 - 140,000 euro
Spectacular 7-year old FEI Dressage Pony, Petit Magic Moment is a highly successful stallion with an impressive type and expression. 
He was first competed in 2014 and had an exemplary show career so far: victories in the riding pony tests with scores up to 9.2 (10 for canter, 9.5 for conformation). He won bronze at the regional championships for 3-year old riding pony stallions and qualified for the Bundeschampionate, where he scored 8.7 in the Finals. 
As a 4-year old he continued his string of success with victories and top placings in the riding pony tests and dressage horses A-level tests. He again competed at the Bundeschampionate and won the Regional Championships in Schleswig-Holstein under Wenke Kraus.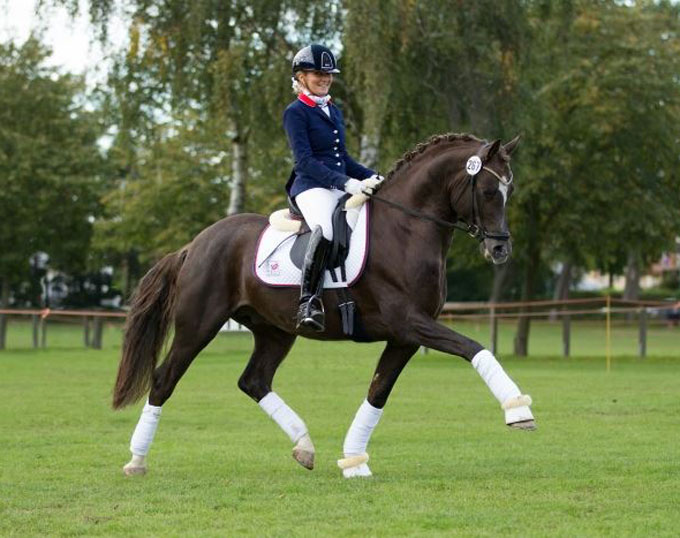 This large-framed beauty has been competed by a junior rider as of 2016 and with almost every single start, he achieved a placing. In 2016 he competed at L-level and qualified for the Bundeschampionate once again, moving to the Finals via the consolation finals. The same story happened at the 2017 Bundeschampionate where he moved on to the Finals for 6-year dressage ponies.  He was regional champion as a 5 and 6-year old and also competed in his first FEI Dressage Pony level tests with scores of almost 70% as a 6-year old.
Petit Magic Moment has the canter as his highlight gait. It is ground covering and clearly uphill. He has moved freedom in the shoulder which makes his silhouette in movement an impressive one. He achieves high scores at FEI pony level thanks to his high quality gaits, especially in canter. His movements give you goose bumps. His walk is relaxed and his trot spectacular with impressive extensions. This is an exceptional stallion that is totally confirmed at FEI pony level. 
This talented pony has been carefully trained and competed with great success. He has not yet reached his full potential and the sky is the limit with him. He can immediately start at international CDI-P competitions in 2018. He combines character, rideability, and willingness to work. This typy stallion always wants to work.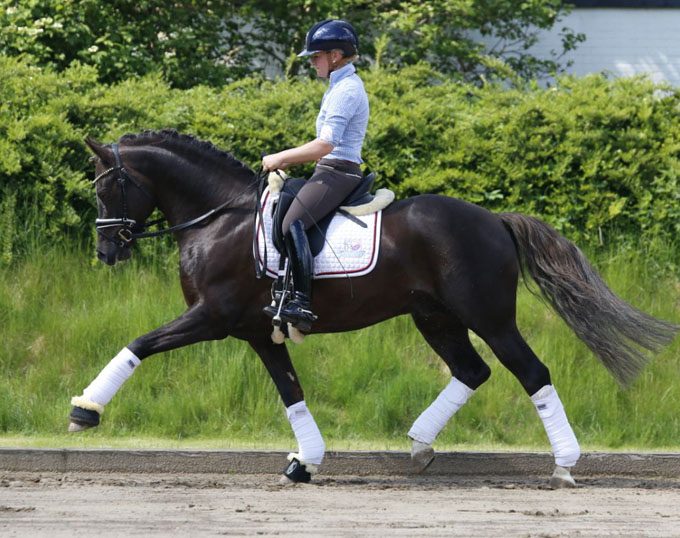 Petit Magic Moment is a crowd pleaser and appeals to the rider and judges. He is uncomplicated as a stallion and is stabled with mares in the vicinity. He can be ridden with mares without a problem. 
Sadly offered for sale as the rider has reached the age limit for ponies. 
Located in north Germany, 30 minutes from Hamburg
Owner Contact Info
Tackmann Family
Rosenhof 1
24598 Boostedt
Germany

Tel: + 49 160 789 87 14

Email Rider: Horsewenke@aol.com