2018 CDI-W Del Mar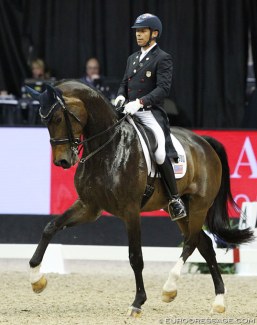 Steffen Peters and his 2017 World Cup Finals' ride Rosamunde made their return to the show ring after a self-imposed ten month break from competition. At the 2018 CDI-W Del Mar on 1 - 3 February 2018, the pair won the World Cup qualifier and collected its first world cup scores towards a potential birth at the 2018 World Cup Finals.
The now 11-year old Rhinelander mare Rosamunde (by Rock Forever x Fidermark) scored 72.565% to win the Grand Prix in a field of just three competitors. They went on to clinch the Kur to Music with 74.700%.
Rosamunde was acquired by Steffen's sponsor Akiko Yamazaki in September 2013 as a second iron in the fire alongside his 2016 Rio Olympic team horse Legolas.
Peters began competing Rosamunde as a 7-year old at international small tour level in 2014, winning at CDI's in San Juan Capistrano, Flintridge, and Fritzens.  "Rosie" made her international Grand Prix debut as an 8-year old in 2015 and showed her talent for the upper level work at competitions in Wellington, San Juan Capistrano, Munich, Achleiten, and Thousand Oaks. In 2016 she joined Legolas on the Olympic campaign route earning more mileage, but their last show was the 2017 World Cup Finals in Omaha in April 2017, where the mare placed 9th in the freestyle but struggled with tension.
In an interview with The Chronicle of the Horse, Peters explained Rosie's long break from the show ring, so he could rebuild the mare's confidence.
"The reason why we took it easy with her is because she was getting so keyed up—the walk wasn't working anymore. She did the movements and never said no, but was simply too nervous," Peters told the Chronicle. "We took her out of the show ring for awhile and did as many hours of walking and stretching, stretching, stretching and then some more stretching, and it paid off. Sometimes we have to take that step back, as much as you want to stay in the show arena. At the end of the day, we have to listen to our horses. We shouldn't just talk to our horses."
In July 2017 Yamazaki purchased Helen Langehanenberg's 10-year old Dutch warmblood Suppenkasper (by Spielberg) to replace Legolas who will be retiring from international competition sport in the spring of 2018. Peters and the bay gelding made their CDI debut together last month in Temecula, California, with victories in the Grand Prix (71.152%) and Special (72.511%). Two weeks later they showed at the CDI-W Del Mar with double victories (74.587% GP, 70.766% GPS). At this weekend's competition in Del Mar, Peters dropped Suppenkasper to national GP level and scored 75.652% in the Grand Prix.
"Today was his best Grand Prix so far," Peters told the Chronicle. "We wanted to play with a few ideas in the warm up that we tried at home that worked out beautifully. Of course afterwards I wish I would have entered him in the CDI because he was so good, but it was a bit of an experimental warm up, it worked, and he'll be in the next CDI."
Photo © Astrid Appels
Related Links
Scores 2018 CDI-W Del Mar
Werth and Weihegold are Number One at 2017 World Cup Finals
Peters and Rosamunde Win 2017 Las Vegas World Cup Qualifier, White and Legolas Make a Start
Rosamunde Sold to Akiko Yamazaki
Winning Show Debut for Steffen Peters and Suppenkasper at 2017 CDN Del Mar
Langehanenberg's Suppenkasper Sold to Akiko Yamazaki