2018 CDI-W Boneo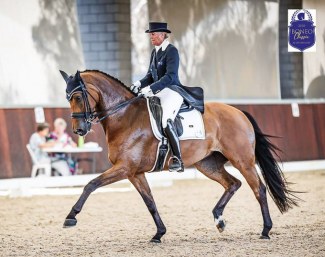 Mary Hanna and her Dutch warmblood mare Calanta have earned a berth to the 2018 World Cup Finals by winning the Pacific League World Cup Qualifier held at Boneo Park on 26 - 28 January 2018. The ride to that World Cup ticket wasn't an easy one as Hanna and Calanta were only eighth in the warm up Grand Prix, but then rocketed to the number one spot in the freestyle.
The World Cup qualifier at Boneo Park was action packed.  The stands were full and the audience was not let down as the Australian superstar combinations first contested the IRT sponsored Grand Prix. After two hours of outstanding competition, the one at the top of the podium was Brett Parbery on board Susan Duddy's 16-year old DP Weltmieser (by Weltmeyer x Dutch Courage) with a score of 70.696% ahead of Mary Hanna and her 2016 Rio Olympic ride Boogie Woogie (by Du Moulin) on 68.609%. Third place went to Shannan Goodwin and Aristede with a score of 68.478%.
The Pacific League World Cup finals were held on Australia Day weekend. According to the show organizer "the event was incredible and had us checking the record books."
Mary Hanna and her 11-year old KWPN mare Calanta won the IRT Grand Prix Freestyle with a 75.365% final mark, including a score of 77.250 from the Judge at C and a second 77% + score from the Judge at M. For her winning performance, Mary will now represent the Pacific League at the 2018 World Cup Finals in Paris in April.  Hanna is one of Australia's most seasoned dressage riders. She has already competed in three World Cup Finals, five Olympics and three World Equestrian Games.
Former young rider Alexis Hellyer steered the 13-year old Baden Wurttemberger bred Bluefieldss Floreno (by Florencio x Roy Black x Akzent II) to a second place in the Kur with 71.545% ahead of Bretty Parbery and DP Weltmieser on 71.150%.
"We wish you every success Mary and congratulate you on a magnificent performance today," said show host Fiona Selby. "A huge thank you to Chris and Lachie from IRT for their amazing support and sponsorship of this year's Boneo Classic."
The Pacific League uses a league final to determine its one candidate for the World Cup Finals. The Western and Eastern Europea League work with a point system based on the ranking at the qualifiers, while the North American League sends those two combinations that scored the highest average freestyle score based on two results. 
Photo © Stephen Mowbray Photography
Related Links
Scores 2018 CDI-W Boneo 
2017-2018 Pacific League World Cup Dressage Final to Be Held at Boneo Park