2018 CDI-W Wellington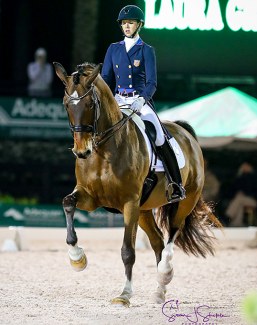 Laura Graves and Verdades comfortably captured the World Cup Grand Prix Freestyle on Friday night 26 January 2018 at the CDI-W Wellington with a mesmerizing performance on her own 2016 Rio Olympic team bronze medallist, Verdades. The pair's emphatic 84.675% is the best score ever given to date at the Global Dressage Festival.
Ranked fourth in the world, Graves and Verdades' floorplan exudes complexity, and includes passage half-pass, two-time changes on a curve melting into one-time, and ultra-steep trot half-passes.
"He is such a hot horse that I rode him three times today," said Graves, 30, who trains with Debbie MacDonald. "We brought him out at lunch time and with the wind he was a little crazy and we were a little concerned as we know what he can be like. But I am excited about this score — and the score from the grand prix [79.63%]."
Graves crafted the test, which carries a high degree of difficulty, for the 2014 World Equestrian Games in Normandy when she was unexpectedly selected.
"I was thrown into the fish tank that year, so I studied all the other riders' floorplans. And the music comes from Rudy, a football movie about an underdog kid," said Graves, who admitted that she had actually arrived at the show without her music and had to have a new copy burned.
Although this was their third highest score ever, Graves will be changing the floorplan ahead of the CDI5* show (February 8-11).
"He's such a clever horse that he guesses what's going to happen, which is why we're going to change it," she explained.
The podium order was unchanged from the previous day's grand prix: Sweden's seven-time Olympian Tinne Vilhelmson Silfvén filled second on Lövsta Stuteri's 15-year-old gelding Paridon Magi (by Don Primero) with 79.05%, while home rider Shelly Francis partnered Patricia Stempel's ever-improving 14-year-old Danilo, by De Niro, to third place with 76.15%.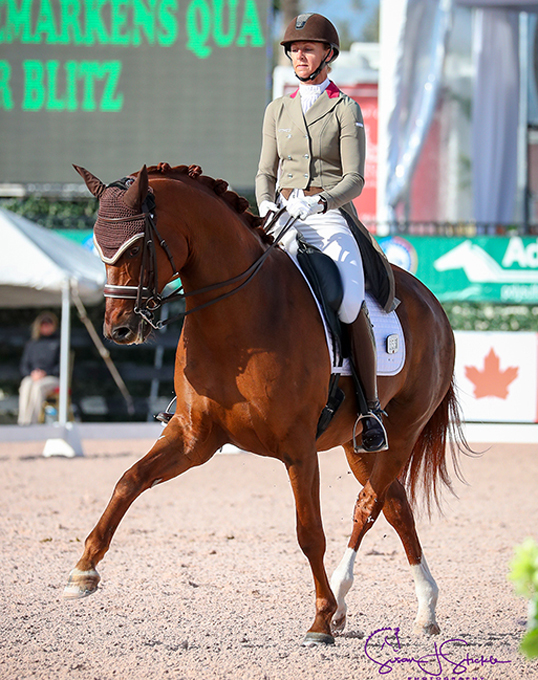 Vilhelmson Silfvén had to ride in one of the rain squalls that passed over.
"Magi felt extremely electric, and it's hard to ride outside when there's a lot of wind — the rain is okay — but generally the test felt really good. He's a fun horse to ride in the freestyle because you can do difficult things on him," she said.
Francis said: "I'm so happy with my horse; he's getting much more honest in there. He's hot, but he's now using the hot to come to work with me. We had a little mistake in the one tempis, but he came right back to me."
All three riders are aiming to qualify for the 2018 World Cup Dressage Final in Paris in April and, ultimately, the 2018 World Equestrian Games (WEG) in Tryon in September.
American judge Janet Foy, who was presiding from C, said: "Two of us judges [here] are also judging at the World Cup final — plus we've done other qualifiers in Europe — and these top three rides were wonderful and would fit right in in Paris."
During the freestyle break, Danish Olympic rider Andreas Helgstrand — who has recently set up a sales barn in Wellington — gave a master class for spectators featuring PRE horses. American under-25 rider Kerrigan Gluch and Danish team member Mikala Münter were the test riders with Münter riding 73-year-old Janne Rumbough's grey international grand prix horse Junior, ahead of his imminent retirement.
Heather Blitz (USA) bolstered Praestemarkens Quatero's 2018 resumé further by landing the day's Prix St Georges CDI 3* class adding to their two small tour wins in week one of the 2018 GDF. In this class, Blitz was the only rider to crack 70%, scoring 70.324% on her own nine-year-old Danish warmblood by Quaterback. The combination boasts six wins from their seven CDI small tour starts.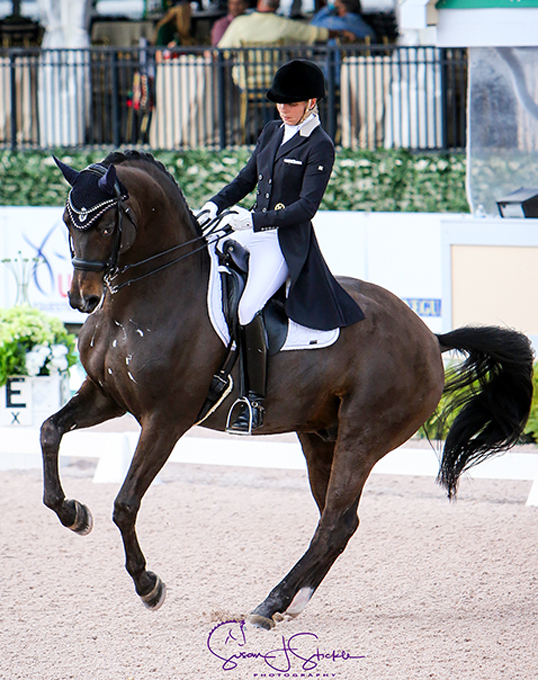 Two judges had the second-placed Norwegian combination of Alexandra Andresen and her own nine-year-old Empire B (by Sting x OO Seven) as the winners. This promising duo were stepping out into senior international ranks for the first time, having been on the youth circuit, culminating in the European Championships for young riders in August in Roosendaal, France. Andresen, who is just 21, scored 69.676%.
British rider Susan Pape's Prix St Georges CDI 1* winner Eclectisch has an equally sparse competition history, but roared to victory with a final total of 69.529%, including a high score from the M judge, Janet Foy, who awarded 74.265%. The nine-year-old black licensed stallion by Zenon x Olivi was acquired in November by American dressage sponsor Leslie Malone of Harmony Sport Horses, having previously been owned by Andreas Helgstrand, among others.
by Alice Collins for GDF - Photos © Sue Stickle
Related Links
Scores 2018 CDI-W Wellington
Graves Returns to Winning Ways at 2018 CDI-W Wellington