2017 PSI Auction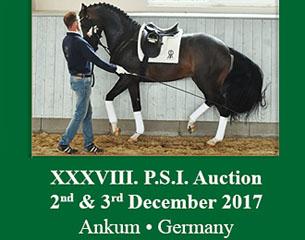 On 2 - 3 December 2017 Performance Sales International will present their carefully selected dressage and show jumping collection of the 38th P.S.I. Auction at the P.S.I. Sport and Auction Center in Ankum. The dressage collection will be presented for the first time in public in Ankum on Saturday 25 November 2017. Come and watch the collection or follow it on the live streaming!
On Saturday 25 November at 6:00 pm (CET) the top class Dressage Collection for the 38th P.S.I. Auction will have their first individual presentation at the P.S.I. Sport and Auction Center in Ankum. Feel free to come to Ankum and take a look at our collection for yourself.
If you are not able to attend, you have the opportunity to follow the presentation from anywhere around the world in our LIVE STREAM – just tune in!
The complete 2017 PSI Auction Horse Collection can be found online at www.psi-auktion.de
Don't hesitate to contact the PSI sales consultants if you are interested in any of the horses or have questions about the dressage collection.
For more information on the dressage horses, contact:
Francois Kasselmann:  +49 171 4969865 
Emile Faurie: +44 783 1246656 
Hartmut Lammers:  +49 175 6505580
Stephan Plüm: +49 172 3405750