Foal Market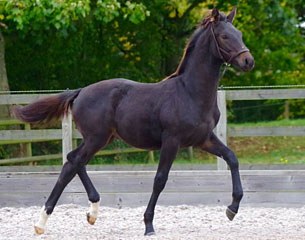 World-class colt foal by Uthopia x Florestan. Destined for the international stage competitively and as a stallion potential.
Name: Uforic (suggested)
Date of birth: 18 May 2017
Sire: Uthopia (Metall x Inspekteur)
Dam Sire: Florestan I (Fidelio I x Rheingold)
Expected height: 165 – 170cm
Gender: Colt
Asking price: £18,000 (no VAT)
It is a pleasure to introduce this super colt, for sale on behalf of a client, that is already showing the same totally natural movement as his sire, Uthopia, whose extended trot scored an unprecedented seven 10's at the 2011 European Dressage Championships.
Strikingly handsome, with beautiful conformation, markings and colour, this colt foal is naturally exuberant and generous in his movement while being uphill with a lovely topline.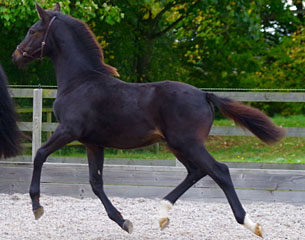 His sire, Uthopia, is the most successful competition stallion in GB winning Team Gold & 2 Individual Silver medals at the 2011 European Championships, Team Gold at 2012 London Olympic Games, Team Bronze at the 2013 European Championships, 11 International Grands Prix, 5 International Grands Prix Special and 4 International Grands Prix Freestyle. His offspring, although young, include a licensed Stallion and many others just starting to be of age to compete and excel at National level. Whilst achieving all this Uthopia has been described as "safe enough for a grandmother to ride" and rated by his rider and trainer as the one of the easiest horses to train to Grand Prix.
The iconic dam sire Florestan I was the champion of the 1988 Rhinelander stallion licensing and Stallion Performance Test in Warendorf. Florestan is a true foundation stallion that stamped his offspring and created a breeding line of his own. More than 2,000 offspring are registered as competition horses in Germany. Ninety sons are licensed for breeding (Fidermark, Florencio, French Kiss, First Dance, Festrausch, Fleurop, Florentinus V, Floresco, Florestano, Florianus, Florett As, Furstenreich, Furst Heinrich, etc.) and 222 daughters have been proclaimed State Premium mares.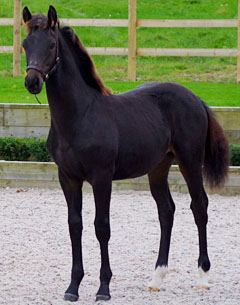 A world-class colt foal with a super pedigree destined for the international stage competitively and as a stallion potential.
Located in Gloucestershire, GB.
Contact info: