Training Your Horse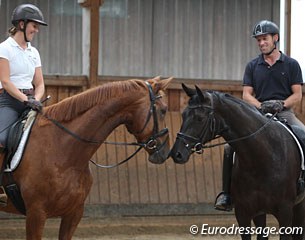 It's mid September now and my two youngsters Fortuny and Javelin have been at Warwick McLean's yard in Tönisvorst, Germany, for four months. My home bred girls have had a paradisiacal life from birth until the spring of 2017 when I had a declick moment that their life of luxury and laziness had to end. Mclean loaded my horses and took them to Germany to transform my bush ponies into modern dressage horses. After the loading and ground work phase, it was time for some riding.
At the end of June I drove to Stable Gehlenhof, where Warwick and his wife Carolina run their business McLean Reitsport, for a check-up on the girls before the summer show and championship rush was going to put my personal life and time in total gridlock for a full two months. Warwick had given me updates on the horses by text and sent a video of one of the very first under saddle sessions with Javelin, but I confess that it was a jaw-dropping moment to see my horses being ridden for the first time. 
Warwick's stable jockey Ele Carroll rode 4-year old Javelin (by Jazz x Grafenfels x Ludendorff), while Warwick climbed on board of 6-year old Fortuny (by Furstenball x Grafenfels x Ludendorff). For the first time both mares were in the arena at the same time. They grew up in a herd and have been very attached to one another. At Warwick's they are kept in stalls next to one another, but for training they get separated. This was the first time they were ridden in the same arena at the same time and it was funny to watch how they were eye-balling each other as a way of holding hands to feel more at ease.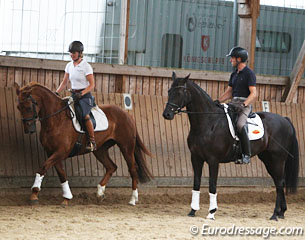 Javelin is typical Jazz. She was the alpha mare in the herd and has been struggling to find her place in the hierarchy in Germany. While she is sugar and spice to humans, she has been sour to her neighbours and in the arena with other horses she's trying to make herself count. She flattens her ears when she crosses other horses - clearly not feeling very confident - but pricks them when she sees Fortuny. Even when she crosses the mirror and spots her own reflection, she's not aware it is her own image and looks mean. It was actually quite interesting behaviour to witness. 
Javelin has a strong hind leg and I'm very pleased to see that she is moving with decent carriage and good engagement for such a young, unbalanced horse. She is alert and willing and seems to love the challenge of working under saddle. While Ele was doing some warm-up trotting on Javelin, Warwick initially worked Fortuny a bit longer in hand. Fortuny is more the pretty, princess dancer with her light gaits, but she still prefers to be lazy over tired and not yet sees the use of exerting herself too much. "She needs to learn to react a bit faster to the whip and go forward with posture," Warwick said about Fortuny. "We use small taps from the whip for her to react to pressure, and it needs to be a forward reaction. We don't want her to be afraid of the whip, but she needs to think a bit faster. Only after that she will learn to relax into the posture," Warwick explained, giving her a treat as reward to a good reaction. Warwick took his time to mount Fortuny, as he believes it important for a young horse to learn to stand still and relax when a rider get, already at the beginning of the riding stage.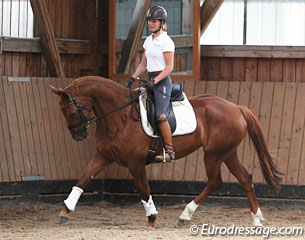 Ele was focusing on riding Javelin forwards to the driving aid so she would stretch into the contact. As my redhead is a green-broke horse, she is still quite unsteady with the head position as she seeks her balance in the forward motion. "It doesn't matter if she throws her head up," said Warwick. "We need to teach them where the most comfortable place will be." This not only counts in trot, but also in walk. "We have to show them where it is a good place to be, in walk, trot and canter. They need to move around your leg," said Warwick while flexing Fortuny softly to the left and right and teaching her to respond to the driving aid.
For the transitions walk-trot, Ele used light taps as encouragement to get Javelin to react more quickly with an understepping hind leg. "You slowly want them to get sharper on the aid. Javelin still has a tendency to get distracted with the other horses, she gets clammish," said McLean. Ele sometimes tapped on the shoulder. "We change the position of the whip, the reaction to any tap needs to be 'put the leg forward'. You don't want to be kicking them with your heels all the time. You need to teach them to go on their own. She needs to develop her own freedom to go. The most important point for training green broke horses is that the horse must learn to go forward by itself to an elastic contact."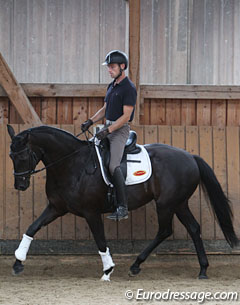 At all times, on both Javelin and Fortuny, the riders kept a soft and elastic contact with the bit. The riders' hands were not parked stiffly on the withers, but were holding the reins loosely and in a relaxed way. "We prefer to ride with the Carl Hester reins. They allow for a bit of stretch and it gives them more play," said Warwick.
At the beginning of the trot work with Fortuny, the black mare was visibly holding her breath and not really relaxing into the movement just yet. "You feel that they build up carbonic acid. It's because of tension that they don't breathe fully. She is not breathing to the end of her lungs." It took Warwick about ten minutes to get Fortuny in a more relaxed trotting mode and after the black mare snorted a few times, she audibly released air and cleared her lungs. The more comfortable she was starting to feel, the more ground covering her gaits became.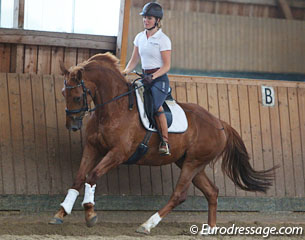 While the trot work on Javelin looked very promising with a good hindleg and self carriage, Fortuny (who is still a bit chubby on the belly and could lose some more weight to get a more athletic physique) is a bit more slow in getting the swing of things. In canter, however, both were still very babyish. They reacted well to the canter aid, but them barely being one month under saddle, the canter strides were unbalanced and a bit wild. The emphasis on the riding lay on developing a good forward tendency, both on circles and on the track.
Throughout that June afternoon Warwick kept on stressing that with young horses you have to take their time not to overwhelm them with difficult work. "If you take it step by step and put them in the right posture from an early age, they are off to a good start," said McLean. "In the beginning of the riding stage you need to be sometimes pushing and sometimes letting them be. Like that they start to understand the difference levels of aids. You need to let them understand all the aspects in the world."
I was absolutely thrilled with how both my girls worked under the rider that day. They certainly underwent a culture shock going from lush green fields to sport-horse-work-mode: loading on the truck, doing ground work in the covered arena, just being in a barn full of strange horses, and then starting under saddle. Both mares have been immersed into a new lifestyle and had to cope with much in a short time despite the no-pressure approach. Warwick and I decided it would be a good idea to turn back out into the field in the summer so they could chill a bit more and then pick up work again in September, when everything will really start and get a bit more serious.
Text and Photos © Astrid Appels
Related Links
Fortuny & Javelin Meet McLean: The Ground Work
Fortuny & Javelin Meet McLean: And So the Adventure Begins