Munster Auction News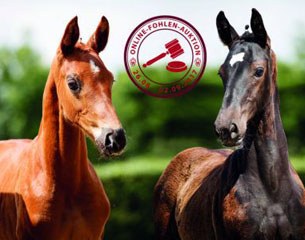 The Westphalian stud book hosts the first online foal auction. Fifteen selected dressage and show jumping foals will be for sale between 26 August and 2 September 2017. During this time frame, you can bid to buy a foal. We use a well-established online bidding system to secure safety and functionality.
The collection will be online a few days prior.
"Three, two, one, yours" – This is how it works

Starting on the 26th of August at 6 pm, all foals can be viewed online with videos, pedigrees and vet report. To bid on a foal all you have to do is register. You will be informed via Email if you are the highest bidder or have been outbid. The auction ends on the 2nd of September at 6pm.
Less stress for foals, mare and breeders
The online foal auction has many advantages especially for the foals. They do not need to travel for a second time and it is less stress for the little ones. It is also easier for clients, they have 7 days to buy a foal and don't have to buy under much pressure.
For more information please contact our sales team!