Foal Market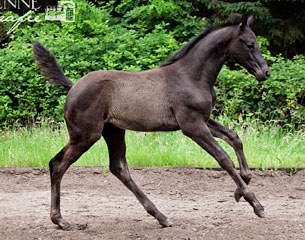 Black Oldenburg colt Maestro Ennio GH (by Morricone x Fürst Heinrich). In the likeness of his sire Morricone, this colt is a picture-perfect little man.
Name: Maestro Ennio GH
Date of Birth: 28 March 2017
Breed: Oldenburg
Sire: Morricone
Dam sire: Fürst Heinrich
Gender: Colt
Expected Height: 1.72 m
Price category: 5,000 - 10,000 euro
Stunning black colt with great elegance and lots of energy as a future dressage and breeding prospect. Equipped with a ground-covering canter, long striding walk and great elasticity in trot Maestro is highly energetic, loves to move and show of his movements. He is very well behaved, knows to be led on the halter to the pasture and back, behaves with the farrier, is very close to humans and easy to handle.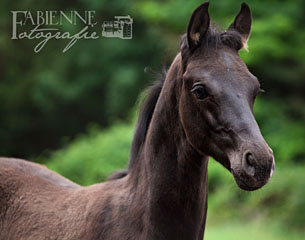 His sire Morricone was celebrated with standing ovations at the licensing site Vechta in 2014. Over the period of three days the shiny black son of Millennium/T. had impressed not only the audience but also the licensing committee. Under the saddle Morricone exceeds all expectations. On the one hand this noble dancer impresses with three fantastic basic gaits, rhythm and a striking engagement of the hindquarters, but on the other hand is the rideability and the imperturbable strength of character, which is absolutely unique for such a youthful stallion. In his stallion performance test he won superiorly the dressage part with a score of 9.33 and received the maximum score 10.0 for rideability and walk four times. All basic gaits as well as constitution, character, temperament and willingness to perform were praised with scores of 9.5 and 9.0.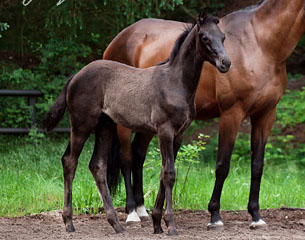 The dam Gabriella R produced a row of highly decorated, beautiful foals all with great athleticism and character. The dam sire Fürst Heinrich leaving a great Impression in all her foals. For a stallion that lived so briefly and died so young, Fürst Heinrich continues to exert an extraordinary and disproportionately positive influence on the breeding of successful dressage horses. His brief competition and breeding performance is impeccable. In his short breeding career, he produced over 40 Licensed Stallions including many Premium Stallions, Champions and Reserve Champions.
If you are searching for a future dressage and breeding prospect this black beauty is just the foal for you.
Located in Germany north of Bremen
Option of raising in ethical husbandry as a colt available
Videos click here: Video 1 - Video 2
Owner Contact Info