Westfalian Auctions in Münster-Handorf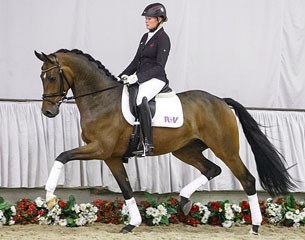 The 3-year old Westfalian gelding Supertramp became the top selling horse at the 2015 Westfalian Autumn Elite Auction in Munster-Handorf on 4 October 2015.
The dark bay gelding by Sir Heinrich x Lanciano, bred by Josef Osterkamp and owned by Christoph Rawert and Francisco Bruggen, sold for 140,000 euro to Hamburg.
The 3-year old chestnut stallion Dr. HC (by Damon Hill x Ferragamo) fetched a knock down price of 101,000 euro and sold to Vivien Munro in Great Britain.
The 3-year old bay mare Vienna (by Vitalis x Florestan) sold for 100,000 euro to an American buyer. The 3-year old bay mare Frau Holle (by Furstenball x Riccio, who was also owned by Christoph Rawert, sold for 66,000 euro to a client in Baden Wurttemberg.
Customers from Luxembourg bought Donna Leon (by Don Juan de Hus x Florestan) for 62,000 euro and Vernissage (by Vitalis x Ehrentusch) for 44,000 euro. Spanish dressage enthusiasts paid 50,000 euro for Vebelle Royal G (by Vitalis x Stedinger).  A Canadian client acquired Summertime KR (by Sir Donnerhall x Florestan) for 33,000 euro.
Twenty-four foals were presented at auction and 21 got sold. The best seller was the bay filly Emely (by Escolar x De Niro). An Austrian buyer paid 18,500 euro for her.
The bay colt Edelstein (by Escolar x Conello) sold for 15,000 euro and will move to Lower Saxony.
The average price for a sport horse at this auction was 30,833 euro, the average price for a foal was 7,210 euro.