Groomed to Perfection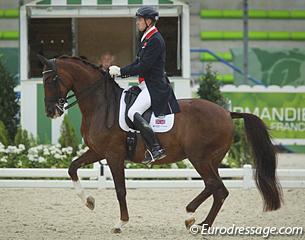 The right-hand woman for British based couple Gareth and Rebecca Hughes, Steph Sharples has worked in the world of dressage for eleven years and enjoys the grooming life because it's far better than being stuck inside all the time. Sharples made Gareth Hughes' British team mount Stenkjers Nadonna prim and proper to win team silver at the 2014 World Equestrian Games in Caen, France.
"The best tip I can give after my years as a groom is to be organized and prepared for any situation," said the 28-year old Steph.
In order to keep her horse and rider groomed to perfection Steph swears by plastic storage boxes, and has all her kit sorted out into different ones; organised by colour,  saddles cloths, bandages, etc. "I'm normally told I take far too much stuff," Steph laughed.
However to be a top groom, Steph agrees that you need to get to know your horses and rider really well and pay attention to what is happening around you. "Know what your rider likes and doesn't like and when they want to be left alone," she stated.  "Also, get to know other grooms, you can learn a lot from others and it's always good to have friends you can go to for help and advice."
Making friends throughout her journeys, Steph remembers a particular "road less travelled" trip that makes her smile to this day.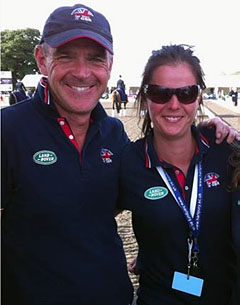 "Gareth's horse Classic Sandman travelled with Alan Davies (Carl Hester's groom) and his horses to Fritzens, and as I hadn't met Alan before I was a bit scared about travelling all that way with someone I didn't know and having to share a lorry with him," Steph reminised.  "We happened to take a different route to everyone else, which we didn't know this at the time, and had to go through about three hours of driving up, down, and around the mountains, with a huge drop to the side of us, with me saying "I'm scared of heights" and "do you want a Pringle Alan?". This was not much help for Alan! The way home was ridiculously hot and we were both sweating like mad and I had to keep supplying Alan with the horses ice boots to put on his head to keep him cool. Now I have a great friend!!"
In terms of tack, Steph couldn't live without pamper wipe and her big tack locker, which helps her to stay organized. "You can always use pampers wipes, they are great for both horses and humans," she stated.
Seeing herself continuing as a groom in the future, Steph feels this is the only thing she is good at and passionate about, and as she has been with Gareth eleven years see can't see herself going anywhere else.
Sharples dislosed that her extra show shine tip has all to do with rubber and oil.
"For that extra shine I start by giving them a go over with the rubber curry comb, followed by a brush, then I use my fluffy mit with show sheen to finish," said Steph. "Plus, if I hot cloth them, I add a little baby oil to it. "
By Sarah Warne
Related Links
Praise to the Groom, the Hardest Working Professionals in the Equestrian World!
Alan Davies, Groom Fit for a King
Weapons, Clocks and Oh Shit Kits, Grooming Essentials According to Casey Nilsson
Benedicte Stine Olsen, the Princess' Groom, On Gaffa Tape, Golf Carts and Metal Hook Thingies
Robbie Sanderson, Groom with Free Spirit and Total Commitment