Great Britain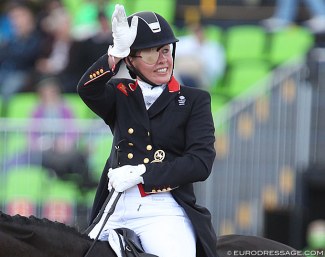 As the corona pandemic is destabilizing global economy and many countries' health care system, more dressage riders are coming forward with their personal battle against SARS-Cov-2 and warning others to stay home and take it seriously.
British Olympic team rider Fiona Bigwood and Belgian based Finnish dressage rider Riika Koljonen have both gone public that they have been infected with Covid-19 and despite their overall good health are very ill.
Fiona Bigwood: "You Honestly Struggle with Every Breath"
Fiona Bigwood is the second British dressage personality that is isolated at home after catching the virus. Mount St. John's Emma Blundell got infected on a skiing trip to France at the beginning of March. Fiona, however, has now idea where she might have got infected.
"I have no idea where I got it from but it is horrible. You honestly struggle with every breath and it is never ending. I am on day 10 now so I am coming out the other side but it's not been easy," she told Eurodressage. 
Bigwood developed all the symptoms 10 days ago, but did not officially get tested.
"You cannot get tested over here (in the U.K.) unless you are admitted to hospital," she told Eurodressage. "I tried to buy a private testing kit but they have a 4 week wait."
She has isolated herself in her house from her family, with husband Anders Dahl (Danish Olympic team rider) and their three children holding down the fort. 
"They all seem fine," said Fiona. "I have isolated myself in our bedroom and not seen anyone. It's very weird."
She has no idea where she caught the virus and with a lack of a systematic lockdown in Great Britain until 24 March the virus might have spread further.
"I was at a kids' party, lunches, at the children's school, etc the two weeks before I showed symptoms so who knows," Fiona explained. "I was also at (the CDI) Keysoe so I have no idea where I caught it. We haven't been skiing so it must have been from someone in the UK. I think when the testing kits eventually come out, a lot more asymptomatic will be identified."
Fiona also took to Facebook: "Please everyone stay safe and be sensible. You do want this. It is nothing like the flu and if you get it then it can be a tough one to deal with.Please follow the advice out there."
Riika Koljonen: ""I thought I would be the last one to get it"
In Belgium, Finnish professional dressage rider Riika Koljonen has briefly hospitalized with Covid-19 and is now in isolation at home.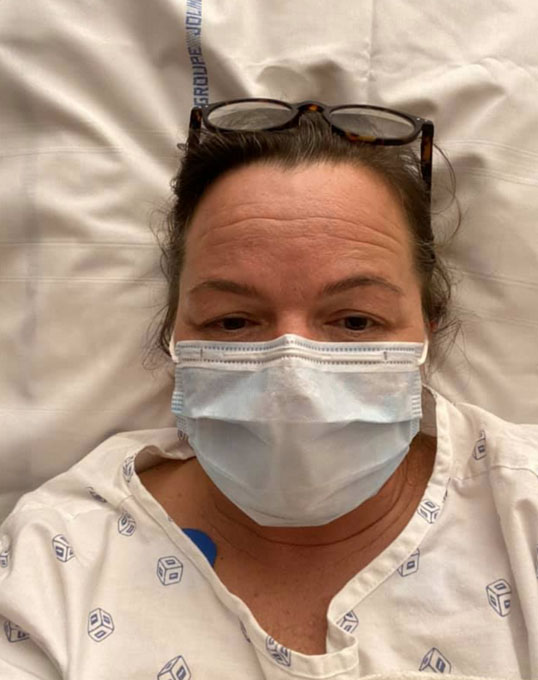 "I thought I would be the last one to get it. I am not belonging to the risk group. I have not been traveling. I have a good physical condition. I am only working and staying here at my stables. And now I am sick anyway," she wrote on Facebook. "My lungs are painful, headaches, muscular pain, fever, coughing... This is serious!"
To Eurodressage Koljonen wrote, "I am now at home and isolated in one room. I am following the saturation of oxygen and I am in contact by telephone with my doctor twice a day. I am doing better. No more fever but still a horrible cough and headache. I am on medication for malaria (hydroxychloroquine) and that seems to work well. And double doses of vitamin C. At the hospital they said that they are trying this medication for me because I am not belonging to risk group and because I am not too bad condition."
When asked if she could trace back where she might have got infected, Riika replied, "I really don't know from where I got it. Though my daughter went to CDI Lier and came back home ill. We thought that she had a big flu, maybe she brought me this."
Riika's daughter, Belgian junior rider Lisa Arcq, most likely got infected before the CDI Lier event at the end of February. However, Lisa was not tested if this was corona of influenza (the normal flu).
"She got ill during the competition and was ill for three weeks," said Riika. "She had contact with our clients at the stables and she went to school by bus a couple of times when she was not too bad."
"Lisa had all the same symptoms that I have: pain with her lungs, headache, muscular pain, fever though not very high, and quite little of coughing. She had very different days; some she was very tired and not well at all and other days ready to go to ride and quite ok," Riika explained. "I don't know if she had just a flu or influenza or this COVID-19 like I have. We went several times with her to doctor but she was never tested as she was not enough bad and she is not from risk group. We went also to do a scan and that day it was negative."
Koljonen finished on, "stay at home! Take care of yourself so you take care of your beloved ones."
Photos © Astrid Appels - private
Related Links
Horsefood's Willy van Doornik Succumbs to Corona, Mount St. John's Emma Blundell Confirms Infection
Cancelled CDI's due to Corona Virus Clampdown