KWPN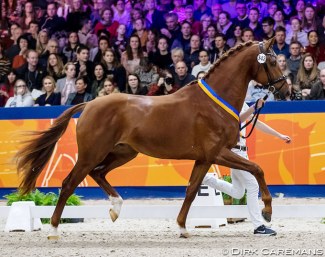 The 2020 KWPN Stallion licensing in 's Hertogenbosch, The Netherlands, on 31 January - 2 February 2020 yielded a result of 45 colts accepted for the stallion performance test and six colts named premium. 
For the first time, the KWPN society decided not to name a "champion of the licensing", but just honoured the six premium colts on equal terms. 
The Hanoverian bred Toto Jr (by Totilas x Desperados) was the best represented KWPN sire at the 2020 licensing. This came as no surprise as the Hanoverian sired no less than 369 KWPN registered foals, born in 2017. Out of this group 29 of them were sent to the pre-selection and five were approved at the licensing itself.
Six Premium Colts, no Champion
Six colts were named premium stallion this year:
Merlot (by Bordeaux x Florencio) - breeder: Klinkhamer family - owner: Saskia van Musscher & VDL Stud
Monte Carlo TC (by Dream Boy x United) - breeder:  Tim Coomans  - owner: Tim Comand, Joop van Uytert, Nico Witte
Mansion (by Totilas x Krack C) - breeder: Van der Oord family - owner: Gerard Koks
Mowgli V.O.D. (by Desperado x Jazz) - breeder: Ad van Os - owner: Ad van Os, Jorg van Os
Majestic Taonga (by Toto Jr. x Jazz) - breeder: Willeke Bos - owner: Willeke Bos, Andreas Helgstrand
Maxson (by Johnson x Negro)  - breeder: W. Verschuren - owner: Gert-Jan van Olst and R. Verschuren
"We were able to assess the stallions well and, according to the test of the Breeding Board, we were generous in the appointment for the stallion performance test without compromising on quality," said KWPN licensing committee chair Bert Rutten. "We selected large framed, uphill built horses that move in a good way."
Morricone VDT, Top Seller of 2020 KWPN Select Sale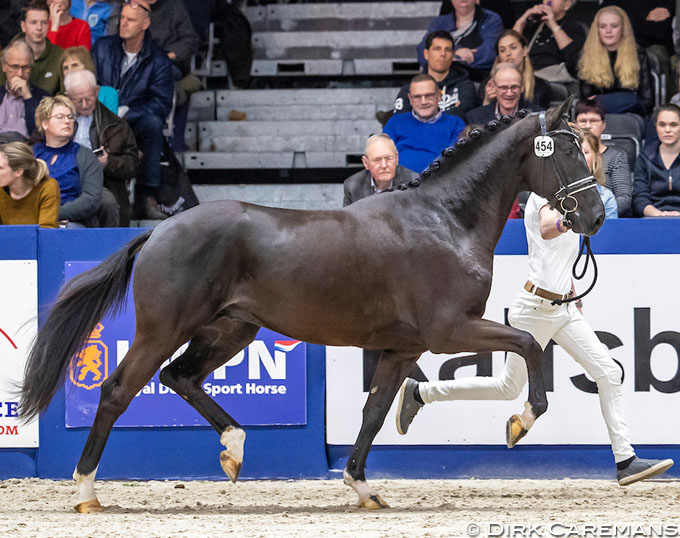 On Saturday 1 February 2019 the KWPN Select Sale took place in Den Bosch, the auction following the licensing. The top seller of the auction was Morricone VDT (by Toto Jr), which sold for 175,000 euro to Andreas Helgstrand 
Mooiman (by Desperado) sold for 90,000 euro, Mauro van de Watermolen (by Zonik) fetched 72,000 euro, Mistal (by Total US) sold for 65,000 euro and Mafkees (by Ferdinand) switched owners for 50,000 euro. 
Moulijn (by Glamourdale) was acquired by a buyer from Cyprus for 32,000 euro. A German client bought Mahler (by Dream Boy) for 30,000 euro, a Russian customer purchased McRoy (by Zonik) for 44,000 euro. Midnight Rock (by Indian Rock) moved to the U.S.A. for 26,000 euro. Milano CLD (by ??) moves to Sweden for 24,000 euro and Spanish client bought Messenger (by Furst Jazz) for 22,000 euro. 
The average price for a licensed stallion in the KWPN Select sale was almost 50,000 euro. 
Photos © Dirk Caremans
Related Links
KWPN Cancels Naming of Licensing Champion, Inserts Lunging
Toto Jr Best Represented Sire at Pre-Selection Days 2020 KWPN Stallion Licensing
2020 Licensing Pre-Selection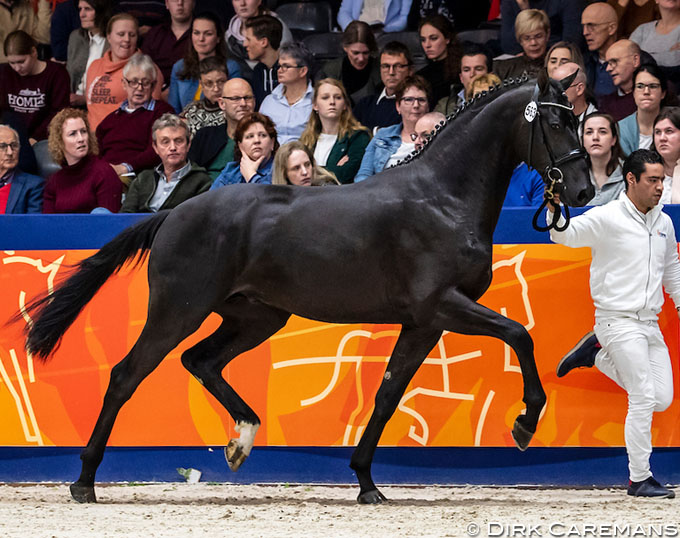 Five Colts Pass Late Pre-Selection for 2020 KWPN Stallion Licensing
Fourteen Colts Picked on Day Five of 2020 KWPN Stallion Licensing Pre-Selection
Twenty Colts Picked on Day Four of 2020 KWPN Stallion Licensing Pre-Selection
Sixteen Colts Picked on Day Three of 2020 KWPN Stallion Licensing Pre-Selection
Twenty-two Colts Picked on Day Two of 2020 KWPN Stallion Licensing Pre-Selection
Nineteen Colts Picked on Day One of 2020 KWPN Stallion Licensing Pre-Selection
Previous Licensings
Le Formidable, Champion of the 2019 KWPN Stallion Licensing
Kremlin MD, Champion of the 2018 KWPN Stallion Licensing
Jameson, Champion of the 2017 KWPN Stallion Licensing 
Igor (aka Indian Rock), Champion of the 2016 KWPN Stallion Licensing 
Handsome O, Champion of the 2015 KWPN Stallion Licensing
Glamourdale, Champion of the 2014 KWPN Stallion Licensing
Fierce S (aka Franklin), Champion of the 2013 KWPN Stallion Licensing
Etoine, Champion of the 2012 KWPN Stallion Licensing
Diebrecht, Champion of the 2011 KWPN Stallion Licensing
Cover Story, Champion of the 2010 KWPN Stallion Licensing
Bordeaux, Champion of the 2009 KWPN Stallion Licensing
Ajong (aka Ampere), Champion of the 2008 KWPN Stallion Licensing
Zagreb (aka Blue Hors Zack), Champion of the 2007 KWPN Stallion Licensing 
Wamberto, Champion of the 2006 KWPN Stallion Licensing
Johnson, Champion of the 2005 KWPN Stallion Licensing
Ustinov and Uptown, 2004 KWPN Stallion Licensing Champions
Tornado, Champion of the 2003 KWPN Stallion Licensing
Symfonie, 2002 KWPN Licensing Champion
First KWPN Select Sale at 2001 KWPN Stallion Licensing
Paddo, 2000 KWPN Stallion Licensing Champion