2020 CDN Esbjerg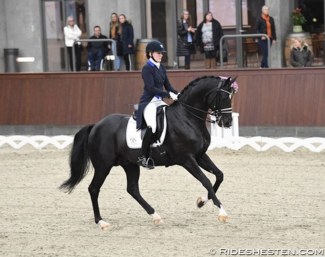 The 2020 CDN Esbjerg in Denmark was the stage for the Grand Prix debut of two well known young FEI horses.
Not only was it the first time into Grand Prix arena for Blue Hors St. Schufro and Ferrari, but they also captured places one and two. 
Blue Hors St Schufro Wins
Blue Hors team rider Nanna Skodborg Merrald and the rising 9-year old licensed stallion Blue Hors St. Schufro (by St. Moritz Junior x Don Schufro) won the class with a whopping 74.80%.
The test featured 20 competitors in total, many of them professional dressage riders. 
Three days ago, Nanna rode St. Schufro in a clinic with Danish team trainer Nathalie zu Sayn-Wittgenstein as members of the Danish Grand Prix squad, which indicates potential for the Olympics and Championships in coming years.
In Esbjerg, Nanna also competed the 12-year old Danish bred Blue Hors Zick Flower (by Zack x Romanov) in this class and slotted in fifth with 70.60%. 
Ferrari Second
Andreas Helgstrand and the soon to be 8-year old Oldenburg stallion Ferrari (by Foundation x Hotline) landed second place with 71.567%
Helgstrand has returned to the show ring with Grand Prix level, premiering Ferrari in this GP class in Esbjerg.
"He's such a fantastic horse, and he always gives his very best," said Helgstrand. "There were a few small mistakes, but he'll be able to do them well once he gains more strength and practice in the difficult movements."
Ferrari was discovered by Luxembourg based French banker Patrice Mourruau at the 2016 PSI Auction where he purchased the stallion for 1.5 million euro. Mourruau, who is the main investor in Grand Ducal Dressage, sold to the stallion later on to Andreas Helgstrand. The Dane rode the horse at the 2017 and 2018 World Young Horse Championships in Ermelo. In 2017 they won silver, in 2018 they finished 10th in the Finals. 
At the 2018 Danish Young Horse Championships two months later Andreas and Ferrari got bronze.  In 2019 Ferrari was shown twice in Denmark by Hannes Lütt and once in June by Andreas at MA2-A level. Six months later the horse made the leap to Grand Prix. 
Melsen Twice in Top Five
The third place went to Helene Melsen aboard the 15-year old Trakehner bred Aston Martin (by Monteverdi x Sixtus) with 70.867%.
She was also fourth with the 11-year old Danish bred Adrenalin Firfod (by Skovens Rafael x Zalmiak Firfod) on 70.80%. 
Photo © Ridehesten
Related Links
Ferrari, Price Highlight of the 2016 PSI Auction
Don Martillo Holds Number One Spot in 5-YO Preliminary Test at 2017 World Young Horse Championships
Nanna Skodborg Merrald and Blue Hors St. Schufro Make CDI Debut with a Bam