2020 CDN Tolbert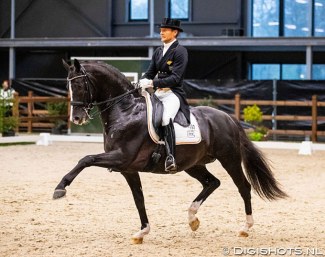 Last weekend, star riders Edward Gal and Charlotte Dujardin rode their future hopes for Grand Prix sport - Total U.S. and Gio - in their debut at a new level. Both number ones in dressage sport in their respective countries had no trouble drawing an 80% score out of the judge at their national show.
Total U.S. Scores 81.99% in First Prix St Georges
In a highly publicized interview with Dutch broadsheet NRC Handelsblad, Edward Gal recently said that he believes Total U.S. will be better than Gal's career making horse and record breaker Totilas.
Owned by Gaston Glock, the rising 8-year old Hanoverian stallion Total U.S. (by Totilas x Sir Donnerhall x Don Schufro) had not seen a competition arena since winning the Pavo Cup Finals as a 6-year old in August 2018.  Gal kept him home and trained the black stallion up to FEI level. 
At the CDN Tolbert on Sunday 12 January 2020 the time had come for their Prix St Georges debut. The crowds flocked together at the side of the arena to witness their performance.
The pair scored 81.99% for an easy victory miles ahead of the competition. The judge at C (P. Berends) rewarded them with 80.735%  and  the judge a H  (R. Van den Engel) gave them 83.235%.
"He went really well and I know he can do more," said Gal after his winning ride. "It's important t me to see how he is at a show, with all the commotion around him. In fact in went really well. I came yesterday, trained him a little and he was quite tense. This is good for him, school him the first day and ride the test the second day."
Gal believes there is much more in his stallion's tank. 
"You feel that there are more gears on him," said Gal. "Once I can ride them all, he'll be even better. At home it works, but here he doesn't need to. What is important is that he did a nice test in these circumstances. It was very busy and everybody came to watch, but that's good. You can't practice this at home. I'm happy that I was able to enter, because it was really last minute. I decided it on Friday."
Gal considers 2020 a practice year and next year he aims to make the transition to Grand Prix. 
Gio Scores 79.56% in First Grand Prix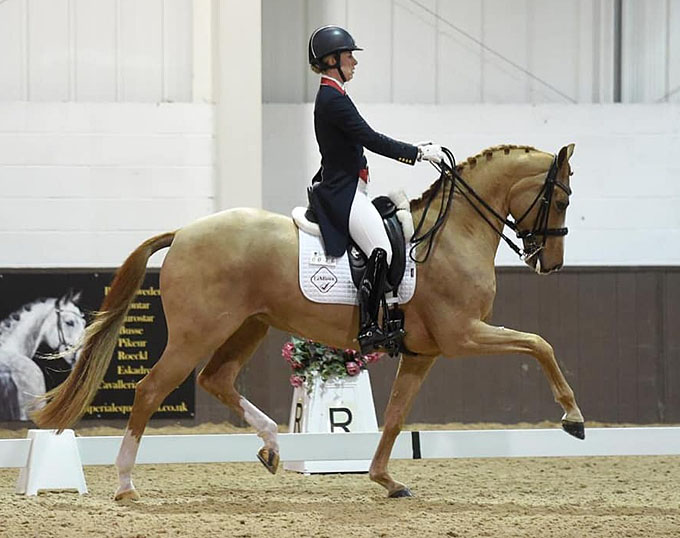 On the same weekend that Gal presented his next star Total U.S. to the public in competition, Charlotte Dujardin presented her new Grand Prix star Gio at the national premier league show in Addington on 11 January 2020. 
Dujardin showcased that the rising 9-year old Dutch warmblood gelding Gio (by Apache x Tango) is ready for the Grand Prix work in a demonstration at the London Olympia Horse show in December so their competition debut followed soon after. 
The pair scored 79.56% to win the Grand Prix in Addington in undisputable fashion. The class was judged by R. Baldwin, P. Lang and M. Robins.  
The runner up was Sonnar Murray-Brown with Erlentanz on 73.73%. Dujardin campaigned Erlentanz in 2019 as owner Sonnar recovered from a fractured femur.
Dujardin has been riding Gio for three years after discovering and buying him at a clinic in California. She owns the horse together with Renai Hart from New Zealand.
"He was amazing and I'm so proud of how hard he tried for me," Dujardin took to Facebook after her Addington win.
Britain's number one now seems to have two equally well scoring Grand Prix horses to choose from for her Tokyo although Gio is yet to make his international show debut.
Photos © Digishots - Hoofprints Photos
Related Links
End-of-The-Year Totilas Teasers: Totilas under Linsenhoff, Total U.S Under Gal
Edward Gal Upclose and Personal about Totilas in Dutch NRC Newspaper
Charlotte Dujardin Buys 5-year old Toretto At Clinic in California