Products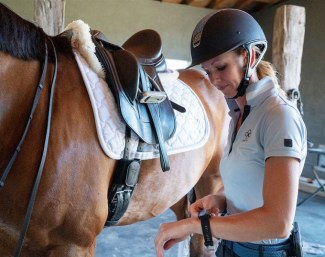 With bikini season still months in the rearview, winter is a time when many of us let ourselves go, and our horses are no exception. But consider this a friendly P.S.A.: while our horses enjoy a few pre-holiday weeks of rest and relaxation (not necessarily a bad thing!) the 2020 competition season is just around the corner. If you are getting ready for the indoor show circuit, or the Global Dressage Festival in Wellington, or just plan on upping your game at home, it's important to use all the tools at your disposal to make sure you and your horse are training safely and efficiently.
Heart rate technology is one of the better ways to do so, and if you've been considering adding a monitor to your holiday wish list this year, you're in good company! We caught up with International dressage rider and Hylofit Co-Founder Eliane Corida-van Reesema to learn how heart rate monitoring can not only help you and your horse reach peak fitness this winter show season, but also stay healthy and happy along the way.
American team trainer Debbie McDonald as well as her WEG team riders Laura Graves, Steffen Peters, Adrienne Lyle and Kasey Perry have all incorporated Hylofit in their daily training programme. QED!
Here are four important tips to keep in mind.
1. Take it Down a Level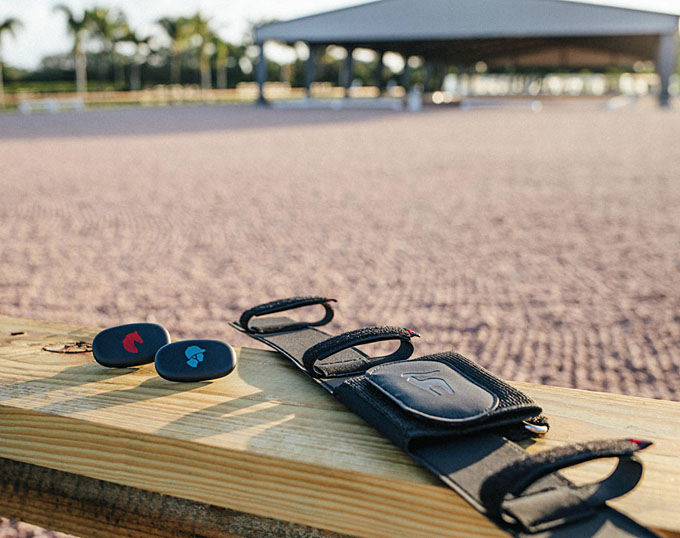 Whether you're new to monitoring or a seasoned pro, keep in mind that your horse's fitness changes throughout the year, and winter is a prime time to re-evaluate.
"It's really hard, because right now, we're all limited. My horses normally get to go out in the field, they go on the walker, and they get a training session. This time of year I take everything down a level, so they're not getting hurt by over-training, but they're not standing in their stalls freezing and tightening up all their muscles either," Eliane explained.
"If I was bringing my horse back into training, I would repeat my baseline test to see where my horse is, and then I would take that as my new 'normal'," said Eliane. "Then, two weeks later, I would repeat the baseline test again to see if we've improved our fitness. If we haven't, I'm definitely doing something wrong. Or, if our baseline got worse, than that might be an indication that my horse is in pain."
2. Don't Neglect Your Own Fitness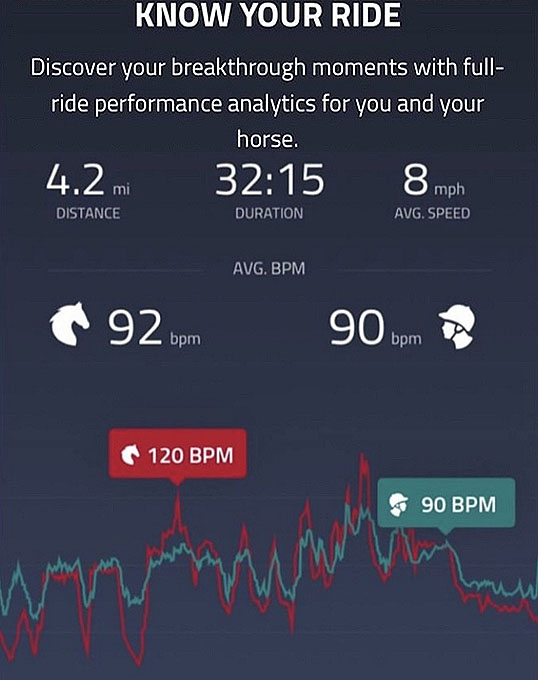 Never fear: Hylofit offers a heart rate monitoring component for its human users as well, and it's easy to track your own performance while you're logging your horse's.
"I would stress that all the data is reported and taken into consideration, in the sense that you should also definitely ride with the heart rate monitor, and use the human portion of the baseline test, to see if you got fitter," Eliane added. "In January, we all tend to need to head back to the gym and work out again after the holidays. The baseline test for the rider is just as important."
One reason why? According to Van Reesema, what and how much we ask of our horses is often a reflection of our own conditioning—or lack thereof.
"As a human, you have so many influences that affect your riding, and we've seen that fitter riders make their horses work harder, which is not necessarily a bad thing. But that also means that the not-so-fit riders either don't ask a lot of their horses, or they just keep going in the same rhythm, and never get out of one training zone."
3. Analyze, Analyze, Analyze
Once you've established your horse's winter baseline, look for differences in the data from day to day, gait to gait, and direction to direction. These can help you understand where your horse's strengths and weaknesses may lie—and also confirm that there's not a bigger issue going on beneath the surface.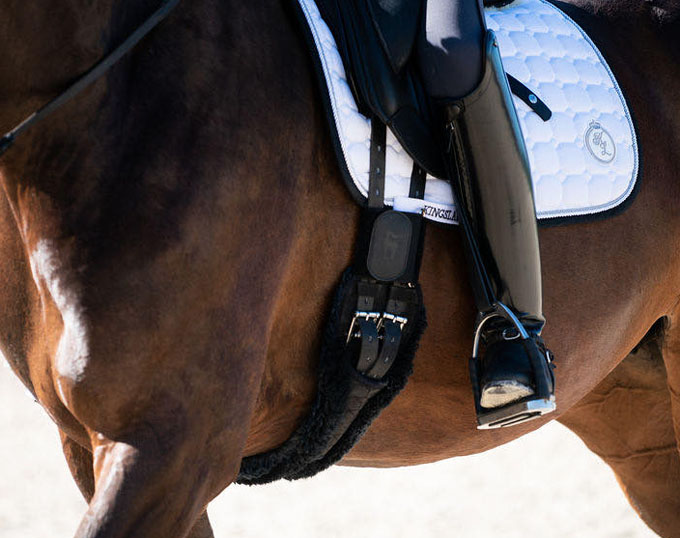 Van Reesema recommends starting by comparing your horse's data at the trot, tracking to the right, then the left.
"You can see a normal fluctuation of anywhere from 0 to 5 beats per minute from left to right. But if there's a difference of 10 or more, that's not great, and that's an indication of something," Eliane explained. "It may be that it's just harder, or there may be an injury. At the canter, it's the same thing."
Understanding what causes these fluctuations is the key to stabilizing and improving your horse's performance. After noticing her own horse had a heart rate differential of more than 10 at the trot the day after a major, three-day dressage competition, Eliane realized she needed to support him better throughout the show, then beef-up her cross-training work at home.
"It's about figuring out how I can help him during competition: does he need more vitamin E? Does he need more support so he can have a better recovery? What I also tend to do when I get home is then to get out of the flatwork mindset—to start doing some pole work or hills, or even some jumping at times, so he gets a little more square and strengthens his fitness overall," Eliane confirmed.
4. Safety First (and Foremost)
Whether you're shipping your horse to winter circuits half-way across the continent, or braving the elements to school your horse up in less-than-ideal conditions at home, heart rate technology can make a huge difference in the most important arena of all: making sure you and your horse are healthy and safe.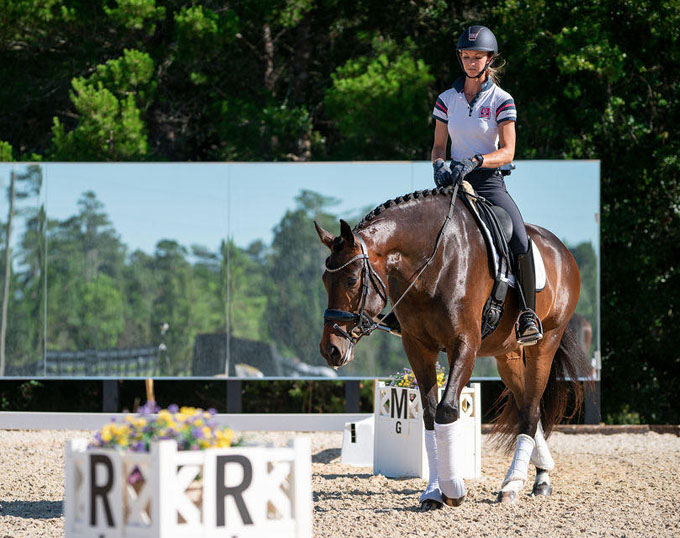 "I think apart from anything, it's a vitals kit. The performance is one side, but just knowing that your horse is healthy, knowing that he's okay, is for me the biggest thing. Any horse in the field, if I'm going to go get on it, I want to know that he's okay — you're sitting on a big animal," Eliane noted. "For the recreational rider, now, in the winter, it's important to know if you're getting your horse out enough, if he did enough while you worked him, if it's too cold for him to be working, etc. Just having that basic information — and not thinking, Oh, it's 20 degrees warmer today, so now I'm going to exhaust him."
Eliane continued: "Taking care of your horse doesn't just mean skin-deep, it goes further than that—and what's more important than their heart? Apart from performance, the communication part of heart rate technology is really important. Knowing what's going on with your horse—is he healthy? Is he able to do what you're asking of him? It's really simple. Our hope is that we can help horses in this way, with this tool."
Discover Hylofit at www.hylofit.com
Related Links
Hylofit – The Fitbit for Riders and Horses - Demonstrated at CHIO Rotterdam 22 - 23 June 2018
Hylofit to Demonstrate Revolutionary New Product at 2018 CHIO Rotterdam, June 22-23
What Can Heart Rate Variability Reveal about the Horses' Inner State?
Tristan Tucker Challenges Happy Athlete Concept in 2017 TRT Show Case at Jewel Court Stud U.S.A.