2019 CDI-W Devon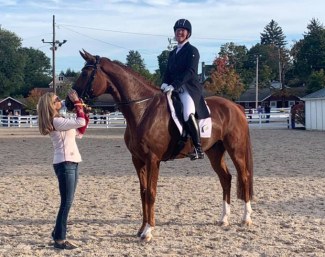 Canadian Jacqueline Brooks and her 12-year old Hanoverian gelding Westwood swept the Special tour at the 2019 CDI-W Devon on 26 - 29 September 2019 coming straight off back to back victories at the CDI-W Saugerties the week before. 
Brooks won the Grand Prix for Special with 68.239% and moved into the winner's circle again in the Grand Prix Special with  68.426. 
To Dressage at Devon fans, Jacqueline "Jacquie" Brooks is a familiar face. After all, to the spectators' delight, she returns frequently. "Devon is my favorite. Look at it," she says with a sweeping arm gesture towards the Dixon Oval. For Brooks, it's about the atmosphere. "The townspeople coming out to support it. Last night, people were coming out from town who had never seen a horse, and they were asking for autographs," she says.
Brooks started competing Westwood, a 12-year-old Hanoverian by Wolkenstein II x Lauries Crusador xx,  in February 2019. Westwood was schooled to Grand Prix level by Germans Jessica and Benjamin Werndl. Jessica rode the horse at small tour level at one CDI, the 2015 CDI Kaposvar in Hungary. Now owned by Stone Hill Equestrian, Westwood was trained by Canadian born American Ashley Holzer, Jacqueline's long-time coach, before Jacquie took over the ride.
She describes Westwood as a calm, quiet, cuddly horse who finds all his work equally easy. "To have a horse that can do all the movements of the Grand Prix is rare," she says. "Usually, they have one movement that's more difficult for them."
When comparing him to her D Niro, a.k.a. "Goose," the Swedish warmblood gelding that she retired at the end of 2018, she believes they are unusually similar horses. "Both are big and strong, which I like, and they're very strong in the contact," she said.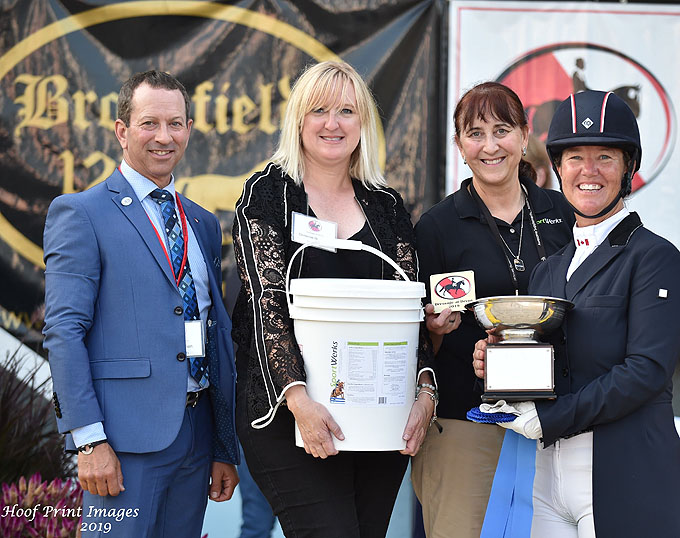 Westwood, however, is taller, a slightly more elegant mover and a little more emotionally fragile than D Niro. He loves being in the ring and doing his job. However, if Westwood tries too hard, he can become overly sensitive, so Brooks approaches his training slowly and steadily. She hopes to move from steady 68s to 70s, stepping up their scores in small, manageable increments.
She notes that part of the challenge in bringing a horse along in North America is that there are not many venues like the Devon Horse Showgrounds.
"You may have the opportunity five times a year to come into a venue like this, says Brooks." She explained that at many other venues, the show and the stay at the grounds is much longer so the experience is very different.
Photos © private - Hoof Print Images
Related Links
Scores: 2019 CDI-W Devon
D Niro To Be Retired from Sport in Toronto, Westwood Hope for the Future
Jacqueline Brooks and Jaimey Irwin, North American League Representatives at the 2013 World Cup Finals
Mary & Eric Brooks and Anne & John Welch Named 2012 Dressage Canada Owners of the Year