The Netherlands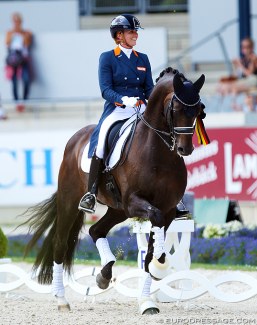 Emmelie Scholtens' 14-year old Dutch WEG team Grand Prix horse Apache has passed away. The stallion had to be euthanized suffering from severe laminitis. 
Apache was a Dutch warmblood licensed stallion by UB40 out of Tolanda (by Krack C). He was bred by Tonnie van der Koppel and owned by Ad Valk. 
The dark bay stallion was trained from novice to international Grand Prix level by Emmelie Scholtens. The temperamental stallion was a handful as a youngster but Scholtens patiently chiseled at him and shaped him into a highly competitive Grand Prix horse.  Scholtens made Apache and Apache made young horse rider Scholtens' international Grand Prix dreams come true. 
In an interview with the KWPN magazine Scholtens commented on Apache's temperament: "I'm certainly not a hero in the saddle, I'm rather careful. He's never been naughty but sometimes he would get too many impressions and it would be too much for him. He would lose it for a moment. There are horses that never want to work and have certain reactions because of that. That never happened to him. I have to be honest and say that I couldn't do this without Jeroen (Witte, her partner). We are so tuned into each other and for us it's normal that Apache can be too stalliony once in a while. I understand that people see that and consider him too much stallion. Warming him up with a lot of horses around him is still difficult for him. On the other hand, he is a really nice horse to ride tests with. He learnt that through time. As soon as I travel the ring, I feel him change and as soon as I enter at A, he turns that switch. I never have to work hard on Apache in the arena."
Apache was purchased by Ad Valk as a 2.5 year old and he went on to become the reserve champion at the 2008 KWPN Stallion Licensing. He completed his stallion performance testing in the autumn of 2008 with 78 points.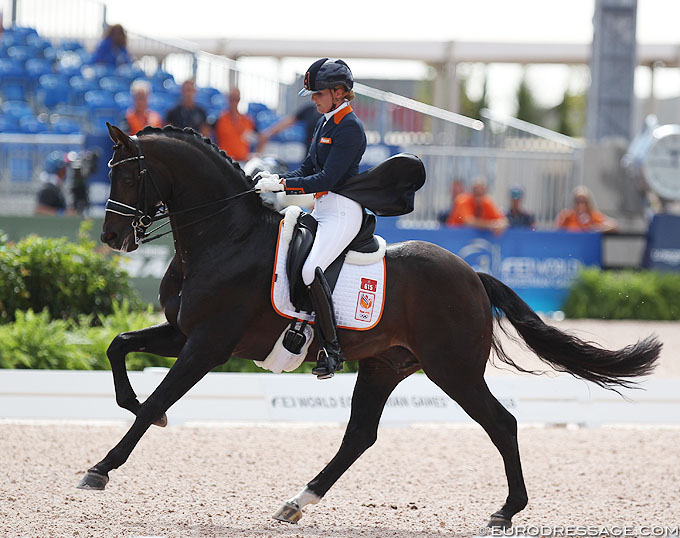 Apache's first rider was Yvonne Copal who steered him as a 4-year old to a 10th place in the 2009 Pavo Cup. In September 2009 Scholtens received the ride on the stallion. They won the 2012 KWPN Stallion Competition and the pair became the 2012 Dutch Small Tour Champions. Emmelie slowly took him to Grand Prix with the help of Edward Gal. They were members of the Dutch team at the 2018 World Equestrian Games and placed 8th at the 2019 World Cup Finals in Gothenburg. They won bronze at the 2019 Dutch Grand Prix Championship. 
Scholtens last competed him internationally at the 2019 CDIO Geesteren in June. Stall mate Desperado took over the number one position in the barn and was selected on the Dutch team for the 2019 European Championships in Rotterdam. However, during this time Apache developed laminitis and could not be saved. 
"The last few weeks we have done everything to make him recover as well as possible, but he was in so much pain and there was little to no hope for recovery. This has led us to make the decision to put him out of his misery," said a bereaved Scholtens. "Apache was special in every way. I'll never get a horse like that in my stable again. He was always present, which makes me miss him even more."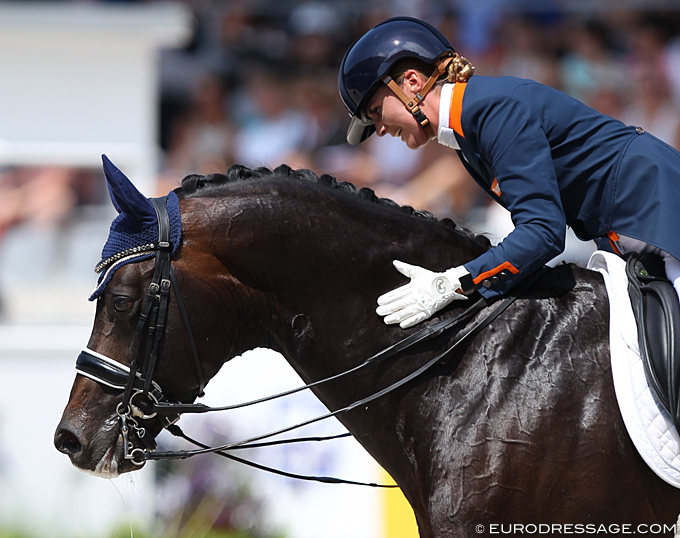 As a breeding stallion, Apache sired six licensed sons: Grand Galaxy Win, Hometown, Intro K, Improver VDT, Indian Rock and Cum Laude. He also produced the KWPN Foal Champion Ferrari STH (now at small tour under Jeanine Nekeman), international small tour horse Gaudi Vita (Joyce Heuitink) and 2019 World Young Horse Champion Jovian (Andreas Helgstrand). He also produced 50 elite mares and 91 ster mares. Apache proved to be a WFFS carrier after a double testing
Photos © Astrid Appels
Related Links
Eurodressage Photo Database: Apache
Apache Retests Positive as WFFS Carrier
Third Apache Offspring Positive for WFFS, Apache Wrongly Tested?
Emmelie Scholtens and Apache Take First Stand in 2017 CDIO Rotterdam 3* Grand Prix
Apache Best Represented Sire at 2014 KWPN Stallion Licensing Pre-Selection Days
Scholtens Stuns on Apache in the 2013 CDI Drachten Prix St Georges
Chippendale, Bon Bravour, and Apache Win 2011-2012 KWPN Stallion Competition
Apache Proclaimed Keur Stallion