Danish Warmblood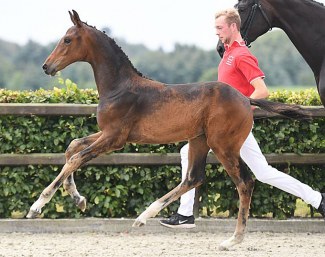 Outstandingly bred, future dressage stars are making up an extraordinary collection of foals for the the 2019 Danish Warmblood Elite Foal Auction in Vilhelmsborg, Denmark, on 24 August 2019.
The collection has been hand-picked by the selectors at the Danish Warmblood foal inspections and at dedicated breeders across the country this summer.
Danish warmblood horses are proving themselves as winners world wide and across the levels, with medalists at the World Young Horse Championships, World Equestrian Games, and European Championships. 
Secure your next future champion in Vilhelmsborg.
A Look in the Collection
Fifty-nine beautiful show jumping and dressage bred foals have been selected for the 2019 Danish warmblood elite foal auction. 
The dark bay filly Egegårdens Miss Daisy (by Blue Hors Zackerey x Blue Hors Farrell) is one of many show stoppers in the collection. This top mover is a talented dressage filly with uphill gaits and charming looks. 
The black filly Hera a Fenris (by Grand Galaxy Win x Gribaldi) is gracious and divine in expression and presence. A foal with superb conformation, great locomotion. Balanced and with a surplus in all three gaits. Hera's dam, Nyx A'Fenris is the sister of Aros A'Fenris, that has achieved great results with para-equestrian rider Annika Dalskov Risum, at the Olympic Games, European-, Nordic- and Danish Championships, and who this year won bronze at the 2019 European Children Championships.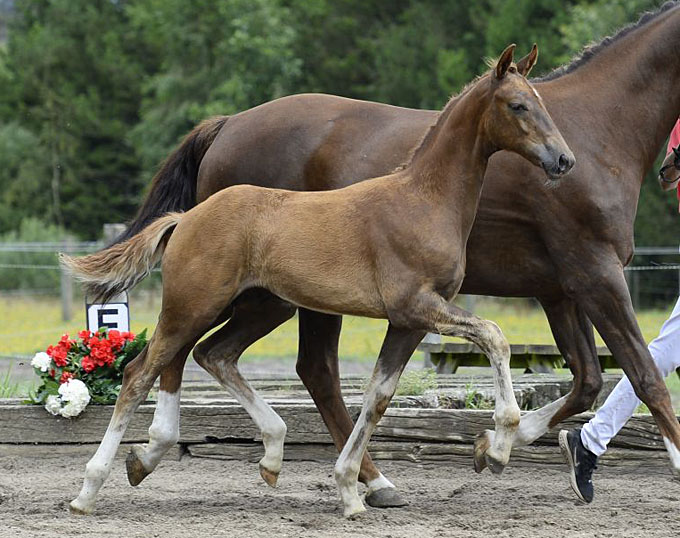 The liver chestnut colt Borbjergs Mieck Out (by Knock Out x De Noir) is a well modeled colt with clear stallion expression. He trots with incredible cadence and has a canter that is ground covering, uphil with each stride and well balanced. This is a clear dressage and stallion prospect that will give goosebumps. 
The bright bay filly Vilard's Frina (by Franklin x Blue Hors Don Romantic) is a true ballerina: really pretty, supple and light footed, but she also moves with great power and superiority. Her dam Wilard's Dowina was filly of the year and selected for the elite show in 2011. Her grand dam, Chatel's Corwina, a bronze medal winner with offspring selected for the elite show and the elite foal auctions. 
Dark bay filly Møllegårdens Kiwi (by Sezuan's Donnerhall x Westpoint) has hind legs that are so strong, active and ground covering. This foal truly has her engine behind and for every gear in which she accelerates, she grows bigger and more beautiful with perfect balance and control. Møllegårdens Kiwi is out of a line with a great number of high performing horses. Her grand dam, Møllegårdens Kolibri, is also the dam of the ERDH-mare, Møllegårdens Kabaret, that has produced several foals for the Elite Foal Auction. Among others, Møllegårdens Pas Partout (by Don Primero) that sold for €400.000 and Tailormade Attention (by Abanos) that sold for €500.000 and later named became a premium licensed stallion.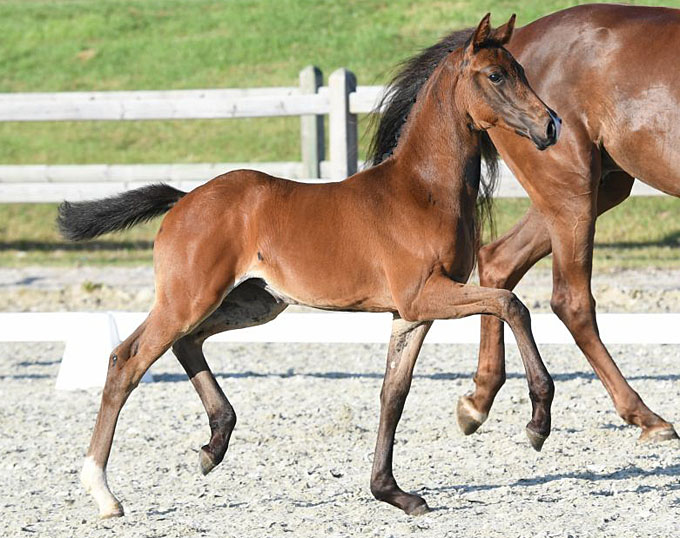 The dark bay filly Jermi (by Jerveaux x Michellino) is definitely one to watch. If one should give an everlasting answer to what characterizes horses at the very pinnacle of sporting performance, it should be something around the lines of: Rideability, superb temperament and capacity. Exactly those qualities have been unified in this foal. Her damline is especially well known for passing on temperament and rideability in a league of its own. 
Don't Miss the Auction
The auction starts at 19h00 on 24 August 2019 in Vilhelmsborg. Visitors who cannot attend the auction, can bid over the phone. The auction will also be streamed live on www.clipmyhorse.com
For information on bidding and foals please contact Louise Ringsbo via lrb@varmblod.dk or call +45 61679493. For bidding on the phone, mail mf@varmblod.dk
The complete collection with photos and videos can be viewed online. Follow the auction also via Facebook.