Germany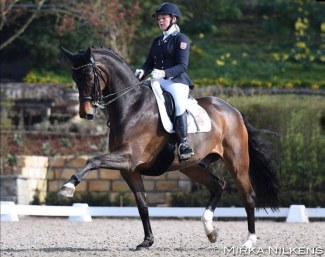 The German equestrian federation has announced the combinations that have been invited to compete in the 2019 Preis der Besten in Warendorf, Germany, on 24 - 26 May 2019.
Two qualifiers for the Preis der Besten were held at the beginning of April: in Kronberg for the souther based riders and in Hagen for the northern based riders.  
The Preis der Besten is a German U21 competition circuit that starts with training seminars, where German national team coached Cornelia Endres and Hans-Heinrich Meyer zu Strohen make a selection of the riders eligible to compete in the qualifiers.  The best pairs there will move to the actual Preis der Besten in Warendorf . The importance of this event is that it is the first German team selection trial for the European Championships this summer. 
The selected combinations are:
Pony Riders
Lucie-Anouk Baumgürtel - Coriander FH
Lana-Pinou Baumgürtel - Massimiliano FH
Shona Benner  - Der kleine Sunnyboy and Novels Boy H
Lena Bücker - Cosmopolitan
Antonia Busch-Kuffner - Daily Pleasure WE and Kastanienhof Cockney Cracker
Julia Fetzer  - Daddy's Daydream
Johanna Kullmann  - Champ of Class
Antonia Roth  - Hancock
Chiara Göbel  - Nobel Noir
Jana Lang -  Nur für dich
Lara Middelberg  - Drink Pink
Paulina von Wulffen ( - Dujardin B
Diana De Meo ( - Charly Brown
Carlotta Wendenburg  - Day of Diva
Frederike Feldhaus - Delray
Rose Oarley  - Daddy Moon
Sophie Luisa Duen  - Del Estero NRW.
Children
 Lisa Steisslinger - Havanna Negra and Caddylack
Kenya Schwierking - Dino's Boy und Cecil
Pia Casper -  In Coming
Antonia Müller  - Fleur
Sofie Stollberger - Choco jumbo
Helena Dietrich - Blue Diamond
Lena Pögel - de Lüdde
Charlotte Rentrop-Schmidt  - Prinzess
Jona Emily Bomberg - Sinatra M
Hannah Lucia Brähler  - Don Avicii
Antonia Elisa Kurp - Davinio
Marlene Usbeck - Jalachit
Nourie Leppelmeier - Smiling Boy
Marie Holtfreter - FriedaGold H
Alegra Schmitz-Morkramer - Tropensonne
Antonia Richter - Dark Fellow WAF
Clara Paschertz - Belvedere.
Junior Riders
Emma Gömmer mit Sir Robin Off Loxley
Sophia Ritzinger - Romano
Valentina Pistner - Flamboyant OLD
Romy Allard - Summer Rose OLD
Emely van Loon - FBW Despereaux
Henriette Schmidt - Rocky's Sunshine
Jana Schrödter -  Der Erbe
Luca Sophia Collin-  Descolari
Franziska Nölken - Rigamento Royal
Franziska Haase - Elaja JS
 Lucie Anouk Baumgürtel - Sweetheart FH
Anna Middelberg - Blickfang HC
Elisa Braune - Weihestolz
Elisabeth von Wulffen -  Babylon and Dancing World
Lily Bendig  - Boscolo
Imke Stoll - Diodorus
Liselott Marie Linsenhoff  -  Danönchen OLD
Kim Zoe Müller -  Barnetta FH
Henri Schamburg  - Ducati K
Isabelle Bottermann - Valencia.
Young Riders
Semmieke Rothenberger - Geisha and Dissertation
Helen Erbe - Fürst Kaspar
Linda Erbe  -  Fierro
Paulina Holzknecht -  Wells Fargo
Luna Laabs - Wild Willy Granly
Lia Welschof - Don Windsor OLD and Linus K
Rebecca Horstmann -  Friend of mine
Ann-Sophie Lückert  -  Fairmont
Sophie Reef  - Rue Noblesse
Alexa Westendarp - Belmore and Four Seasons
Raphael Netz - Dior and Franziskaner
Selina Söder -  Scuderia
Cosima von Fircks - First Ampere
Anna-Marie Prahl - Entertainer
Nadine Krause - Dancer
Charlotte Rühl -  Dante
Luca Michels -  Rendezvous
Annika Rühl - Fire Moon P
Franz Otto Damm -  Lifestyle
Emilia Josephina Hensen - Resümee
Laura-Eve Grellmann - Lord's Liebelei
Julia Rohmann  -  Roma Cherie
Nane Grunwald - Sülberg
Marlene Sieverding - Fürst Levantino
Photo © Mirka Nilkens
Related Links
Middelberg, Schmitz-Morkramer, Schmidt, Westendarp Win 2019 Preis der Besten Qualifier in Hagen
Feldhaus, Steisslinger, Pistner, Rothenberger Win 2019 Preis der Besten Qualifier in Kronberg