2019 CDI Sopot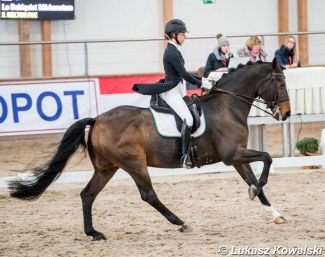 Sweden's Lo Dahlquist Morkenstam and Finland's Janna Pursiainen ruled the Young Riders Tour at 2019 CDI Sopot on 7 - 10 February 2019. 
In a small group of 6 young riders that traveled to Poland for the Sopot 3* international, Swedish Lo Dahlquist Morkenstam grabbed two trophies in the Team test and Kur, while Finnish Janna Pursianen overtook her in the individual test. 
It was a neck-to-neck race between the two young ladies.  Dahlquist Morkenstam and her 18-year old schoolmaster Welton Five (by Weltman x Maraton) were the high scorers in the team championship test with 67.735%, placed second in the individual with 68.676% and won the Kur to Music with 73.550%.
"Welton feelt really good during the whole competition," Lo told Eurodressage. "He loves to compete and had so much energy. We had some small mistakes in the tests but overall we managed to keep it together. I really did not expect to win, it still feels a bit unreal. Our goal was to get some good results and experience."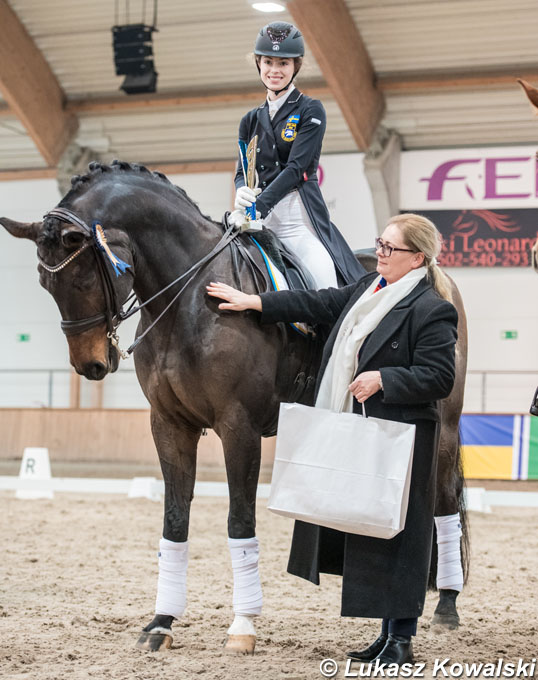 Lo took over the ride on the Swedish Warmblood Welton Five from trainer Clara Espinosa and made her debut at junior level in 2017 and switching to young riders in 2018. The pair was thrilled to travel to Sopot for some early season show mileage. 
"We learned about Sopot from other Swedes who were there last year," said Lo. "It was a very nice arena to compete in and we would like to go back!"
Dahlquist has her 2019 season scheduled and aims for the 2019 European Championships like all ambitious young riders. 
"Now we will do some competitions in Sweden before heading out internationally again. In May we will head to Denmark to compete before the Swedish Championship in June. If Welton continues to feel as good as he does now we hope to be among the riders who get selected for either the nordic baltic championship or the european championship.
Janna Pursiainen certainly gave Dahlquist a run for her money as she was on her heels the entire team. With the 14-year old Hanoverian bred Hiero (by Hochadel x Aalborg x Bolero) she was second in the team test (65.588%), won the individual (69.794%) and was second in the Kur (70.775%).
"He gave me a good feeling in the ring and was trusting le. I didn't expect to win, but i hoped it," said Pursiainen, who is coached by Kerstin Nyberg.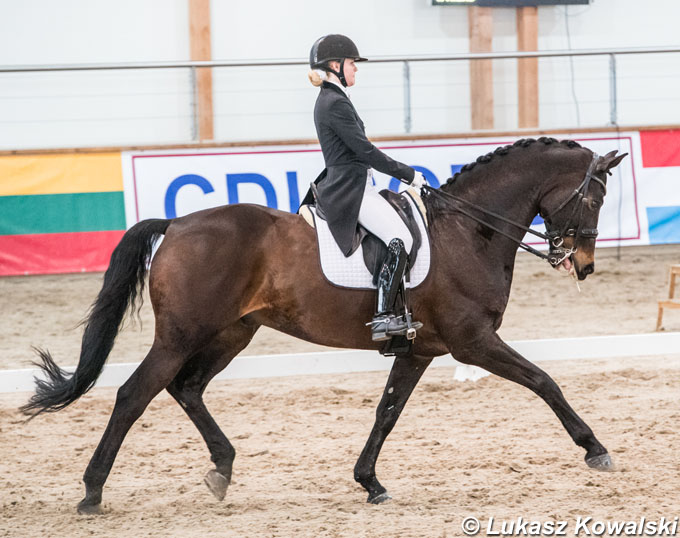 The pair has been together for one year and made its CDI show debut in March 2018 at the CDI Ypaja. They have not competed internationally since then. Sopot was their return to the bigger stage, which required a ferry trip down south.
"I decided to go to Sopot because my friend praised the show," said Janna. " It was also easy for us to go to Sopot from Finland because the cruise was a direct and short journey from the harbor to the competition place."
Janna has no clear competition goals set out for 2019 but just hopes to gain more international experience.
Photos © Lukasz Kowalski - More photos below or view the complete photo gallery of the 2019 CDI Sopot here
Related Links
Scores: 2019 CDI Sopot
Photo Report: Sandra Sysojeva in Charge of Small Tour at 2019 CDI Sopot