2019 CDI Wellington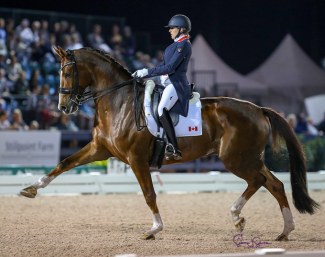 The crowd at the "Friday Night Stars" at the Global Dressage Festival (AGDF) enjoyed performances by top riders in the Grand Prix Special and Grand Prix Freestyle CDI5* on Friday, February 8, at Equestrian Village at the Palm Beach International Equestrian Center in Wellington, FL.
Brittany Fraser-Beaulieu (CAN) and All In, her 14-year-old KWPN gelding by Tango, won the Grand Prix Freestyle 5* with a score of 76.520%.
"It's very exciting, especially since this is probably going to be my last show until maybe September," said the 30-year old Fraser-Beaulieu, who is expecting her first child in June. "I couldn't ask for a better night honestly. He was with me the whole time, and it's probably one of the best feelings I've had on him out there. To end on a note like that, I'm pretty happy."
Fraser-Beaulieu had a high degree of difficulty with her freestyle test. She explained, "I tried to do as many combinations as I could without losing my power. The number of combinations together actually gets extra bonus points. The two piaffe-pirouettes are also bonus points. I think that's where I really racked up a lot of the degree of difficulty."
Katherine Bateson Chandler (USA) and Alcazar, a 14-year-old KWPN gelding by Cantango owned by Jane Forbes Clark, earned a score of 75.705% to come in second in the freestyle.
"I'm thrilled with him. He hasn't done a night class in quite a while," commented Bateson Chandler. "I'm super proud of him. This is the best freestyle we've done. He gave me an amazing feeling, and he helped me through the whole thing. We had a little spook in the beginning. It sort of woke me up, and it made me kick on and he was right there for me, so I couldn't be happier."
Third place went to Christoph Koschel (GER) and Ballentines 10, a 11-year-old Hanoverian gelding by Belissimo M owned by HOF Beckerode GMBH. The pair earned a score of 73.780% in their first freestyle ever.
"I'm over the moon. It's not only his first freestyle, it's his first class under the lights," said Koschel of his partner's strong performance. "He's such a green and young horse. I'm so proud of him that he was behaving so well and was so with me. I think there's a lot of potential for the future, and I really, really had a good feeling. I'm really happy for sure, and I think tonight that was the first step in a good direction."
Judge at C, Janet Foy, added, "Everyone that competed had spectacular music, and everyone rode so well to the music. I think that is so inspiring for us when that happens. Everyone here tonight really is on a top standard. I want to thank all of the sponsors for supporting [AGDF], because without them we couldn't do this and we couldn't have all these experiences. We're very excited to be here."
Lyle Wins Grand Prix Special 5*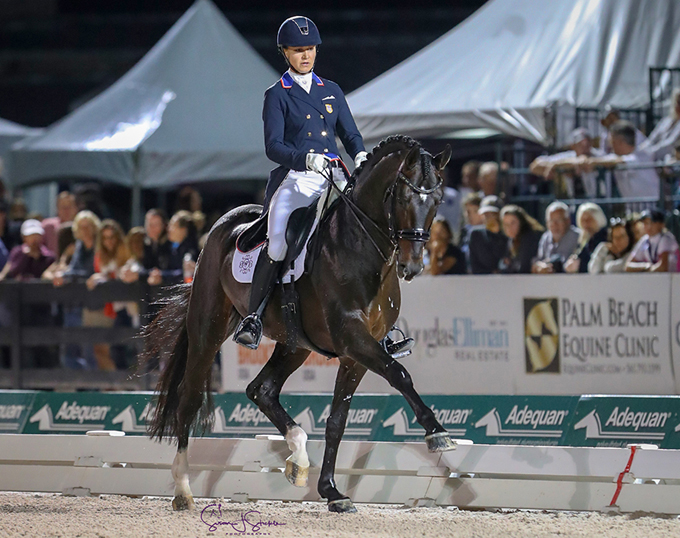 In the Grand Prix Special CDI5* Adrienne Lyle (USA) and Salvino, a 12-year-old Hanoverian stallion by Sandro Hit owned by Betsy Juliano LLC, won with a score of 73.574%.
"This is my first time I've ever done a special under the lights, so that was fun and different," said Lyle of her ride. "It's always a thrill riding under the lights here on Friday night at Global. I was so happy with Salvino. I'm so happy with his attitude. He's just going out there, and he seems like he's enjoying every minute of it.
"I just need to keep working on, as a rider, how to balance him and prepare him for every movement," she continued. "He's a very athletic horse with a ton of scope, which is wonderful, but I need to learn how to keep it all even and exactly where I want it throughout the whole test. It's been a really fun journey so far."
Earlier in the day Leida Collins-Strijk (NED) and Romy, a 13-year-old Hanoverian mare by Royal Blend owned by Arlene Page, won the Prix St Georges CDI1* with a score of 71.814%.
Text GDF press release, edited by Eurodressage
Photos © Sue Stickle
Related Links
Scores: 2019 CDI Wellington
Fraser and Lyle Lead Small 5* Field at 2019 CDI Wellington
Photo Report: Horse Inspection at the 2019 CDI 5* Wellington