Belgium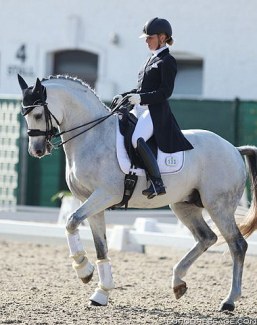 Belgian Grand Prix rider Katrien Verreet has joined the riders' team and Franz-Josef and Renate Dahmen's equestrian centre in Aachen, Germany. 
Verreet, who made her international Grand Prix debut on Brigitte de Biolley's stallions, parted ways with horse owner De Biolley in November 2018 after a 6-year collaboration.
At the time, Verreet decided to go her own way with the horses owned by her family. However, the same month she also began a co-operation with Dahmen, who sought to expand their rider's team and find support for daughter Jana Kun to train and show the horses."
"Together we are training a few horses towards Grand prix and there are also about four young horses talented for the bigger work," Verreet told Eurodressage. "First we'll work a bit and then our goal is to ride competitions."
Verreet made her competition start with three Dahmen horses at the 2019 CDN Ankum on 1-3 February 2019.
Aboard the 10-year old Hanoverian mare Gräfin Fritzi (by Gribaldi x Lauries Crusador xx) she scored 59.167% in an M-level test but upped that performance to a 62.675% in the S* test the next day. She also saddled two horses for the S***-test. With the 12-year old Rhinelander Zsa Zsa (by Samarant x Domburg) she earned 53.904% and with the 11-year old Rhinelander mare Fernanda (by Fidertanz x Abanos) she posted 53.860%.
"It wasn't a real competition for us, but more practice," Verreet said about her starts in Ankum. "The horses all went two levels up in a few weeks and we really hgave to learn to know each other at a competition. This wasn't a real debut, but more a chance to see where we are and how the horses react somewhere else, over a few days. We wanted to train in all quiet and training we have to do."
The Dahmen couple run their own private equestrian yard in Aachen and are also the driving force behind the organisation of the Aachen Dressage Days CDI and CDI Aachen Indoor. Daughter Jana Kun is a former European Pony Champion (on Golden Dancer) and is now competing at Grand Prix level.
Photo © Astrid Appels
Related Links
Katrien Verreet and Stallion Owner Biolley Part Ways
Francis and Danilo In Front at 2018 CDI Aachen Grand Prix for Special
Faurie and Dono Di Maggio Blow Away Competition at 2018 CDI Aachen