Russia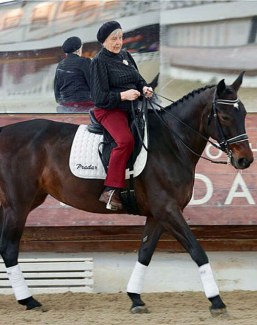 Russian legendary dressage rider Nina Turbina-Gromova has passed away on 28 January 2019 at the age of 97. 
After an illustrous career as a competition rider, trainer and international judge, she became the honorary President of the Russian Equestrian Federation in 2017.
The 1922 born Gromova was a World War II veteran and worked as a military translator and radio broadcaster. She received a government medal for her aid in the construction of defensive fortifications  outside Moscow in 1941.
Nina Gromova is a well known sports woman and Russian equestrian sport record holder. She is famous for competing the same horse – thoroughbred Dida (by Blasius x Dideldumdei) – in show jumping, eventing, steeple chase and dressage. Both in eventing and jumping Nina Gromova and Dida were national champions, in 4 and 6 km steeple-chase races this pair set national records and one of them still remains unbeaten.
She achieved her most glorious success on Dida in dressage, competing at Grand Prix level. She was the traveling reserve for the 1956 Olympic Games in Stockholm (sole woman representing Russia in Stockholm!).
After retiring from an active sports career, she was the first Russian representative in the FEI sports committee. She helped develop the modern rules for dressage. She assisted the Russian team  to won gold at the 1968 and 1972 Olympic Games.
A farewell ceremony will be held at the Moscow race track on 30 January 2019, after which she will be buried at the Novodevichy cemetery next to her husband, renowned aviator Mikhail Gromov.
Related Links
Nina Gromova Back in the Saddle at Age 95
Absent, An Akhal Teke on the Olympic Stage
Woyzeck: A Star Who Was at Peace with Himself
Mehmed, Triumph of Training
The History of British Dressage: "I Thought We Would Get There...In 100 Years!"