Mecklenburg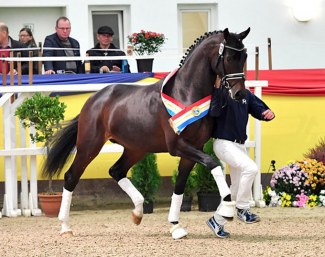 No reward of 10,000 euro for a dead WFFS foal. The State Stud in Redefin has decided to take a different route and approach the WFFS topic with the breeders in mind.
St. Georg reported that Redefin's managing director Antja Kerber has decided to reimburse breeders the lab costs for having their mares tested if they want to breed to a Redefin stallion. Redefin will not allow carrier mares to be bred to their carrier stallions.
Redefin had all its stallions tested and five turned out as carriers of WFFS, two of them are dressage stallions: D'Olympic (by Donnerhall) and Top Level (by Top Gear). The jumper carriers are Balou Peggio (by Balou de Rouet), Lamarco (by Landcapitol) and C-Mocca d'Or (by Monte Bellini). 
"We have five carriers in Redefin, amongst them D'Olympic, a stallion with very successful offspring," Kerber told St.Georg. "He really stamped himself in a positive way here on the regional breeding scene as well as across the borders of Mecklenburg-Vorpommern. To keep giving these stallions the chance they deserve with breeders who are now insecure, we have decided to be transparent about the theme WFFS. Especially because of the inheritance potential the now 25-year old D'Olympic has shown and how blessed a stallion can be for breeding, even when he has this gene, which we only know since a few weeks. In this particular case we believe that it is wrong to discard his successful genes because of this new knowledge." 
Therefore, if breeders decide to breed to a Redefin carrier stallion, the mare owner is obliged to have his mare tested first. If she is a negative, they will subtract the amount of the lab costs from the stud fee of the stallion of their choice. If the mare turns out to be a carrier, Redefin will not allow her to be bred to a carrier stallion, but they will reimburse the lab costs by subtracting the amount from the stud fee of a Redefin non-carrier stallion. 
Related Links
Schockemöhle to Pay 10,000 euro to Breeders with Dead WFFS Foal
Blue Hors Don Schufro Positive to WFFS