France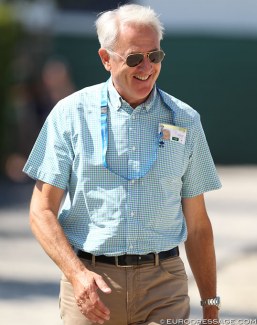 In its latest newsletter the French Equestrian Federation has announced a new squad and team selection criteria for 2019-2020. 
The French Federation will be working with an A and B-squad, which they name Group 1 and Group 2.
The goal set for dressage this year is to qualify a team for the 2020 Olympic Games in Tokyo via the 2019 European Championships in Rotterdam, but the ultimate goal for the French Equestrian Federation is of course have a strong pipeline ready with a team at full force for the 2024 Olympic Games in Paris, France. 
For dressage, Group 1 will be the A-squad from which the actual team riders will be selected. To be submitted to the A-squad, riders have to score more than 70% three times at a national Grand Prix of CDI 3* of which one show has to be at least abroad. The results have to be achieved in a period of 12 months and the most recent score can not be older than six months.
The French Federation has limited the access for riders to CDI's at 4* or 5* level, CDIO's and CDI-W to just those who have been submitted into the A-squad/group 1.
For 2019 European Championship team selection, riders have to have scored at least once 71% in a Grand Prix at the Western European League CDI-W, a CDI 5* or 4* or a CDIO. For the 2020 Tokyo Olympics to be team selected, riders have to score at least once 73% in a Grand Prix at similar shows, of which one has to be abroad. Scores 10 months before the Olympics will be taken into account.
The two Grand Prix dressage squads for 2019 will be announced after the first official team training clinic on 29 - 30 January 2019.
Photo © Astrid Appels
Related Links
French Federation Drops Bomb by Deciding Not to Send Team to WEG
Morgan Barbançon Mestre Wins 2018 French Grand Prix Championship
Ludovic Henry Receives 2018 World Cup Finals' Extra Starting Place
French Team for 2018 CDIO Hickstead Announced
French Team for 2018 CDIO Rotterdam Announced
2018 French JO/JEM Squad Expanded with Five New Horses