Oldenburg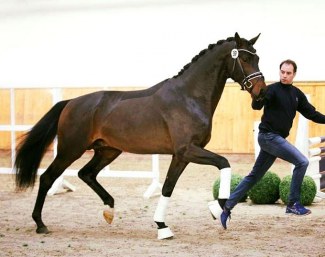 The Oldenburg stallion licensing committee accepted seventeen colts for the 2019 Oldenburg Saddle Licensing, which will take place in Vechta, Germany, on 4 - 6 April 2019. 
The saddle licensing is open to 3 and 4-year old colts.
At the pre-selection in Vechta on 17 January 2019 the colts were presented on hard surface, on the lunge line and jumping in freedom. Then they are walked and the committee announced if they can appear for the saddle licensing or not. 
Seventeen colts out of the 41 originally entered for the pre-selection were accepted, amongst them the bull brother of the Oldenburg licensing champion Bonds. 
The accepted colts are:
Belantis x King Arthur x Werther - Breeder/Owner: Watermeier & Partner
Belissario x Donnerhall x Balou - Breeder/Owner:  Josef Kathmann
Benicio x  Sir Donnerhall x Rubinstein  - Breeder/Owner: Katharina Paschertz
Bon Coeur x Akribori x Akzent II - Breeder/Owner: Volkhard Folkers
Dante Weltino x Desperados x Rubin-Royal - Breeder/Owner: Werner Bertke
Formel Eins x Roman Nature x Der Clou - Breeder/Owner: Ina Gerlach
Formel Eins x Sir Donnerhall x Weltmeyer - Breeder/Owner: Bernhard Ilting-Reuke
Fürstenball x Sorento x Hohenstein - Breeder/Owner:  Friederike Kluge
Negro x Dream of Love x Rohdiamant - Breeder/Owner: Gottfried Vorwerk Jr.
Negro x Boston x Rubinstein I - Breeder/Owner: Hans Höffmann
Santo Domingo x Donnerschwee x  Royal Diamond - Breeder/Owner: Bernd Huslage jun.
Tolegro x Welt Hit VI x Donnerschwee - Breeder/Owner:  Bernadette Brune 
Vivaldi x Just Perfect x Rubinstein - Breeder/Owner: Dr. Rudolf Richard
Weltmeyer x Sir Donnerhall x Rohdiamant - Breeder/Owner: Stutteri UNO
Vivaldi x Belissimo x Quaterback - Breeder/Owner: Ariane & Christian Denker
Vivaldi x Johnson x Rosenkavalier - Breeder/Owner: LOWI BVBA
Zack x Royal Hit x Landadel - Breeder/Owner: F. Ralf Suhr
Photo © LL-foto
Related Links
Zac Efron, Champion of the 2018 Oldenburg Saddle Licensing
Texas Tokio, Champion of the 2017 Oldenburg Saddle Licensing
Zodiakus, Champion of the 2016 Oldenburg Saddle Licensing
Boreas, Champion of the 2015 Oldenburg Saddle Licensing
Fursten-Look, Champion of the 2014 Oldenburg Saddle Licensing
Best of Gold, Champion of the 2013 Oldenburg Spring Stallion Licensing
Furstenstein, Champion of the 2012 Oldenburg Spring Stallion Licensing