U.S.A.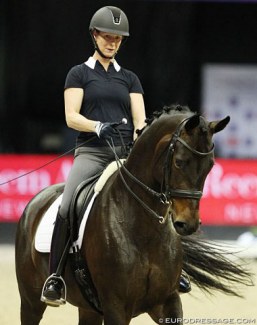 American A-squad listed Grand Prix rider Sabine Schut-Kery has decided to sponsor a deserving rider to enable him/her to compete at the 2019 CDI Temecula.
Schut-Kery is unable to compete at the first two shows in Temecula herself for personal reasons, but she wants to support the West Coast Dressage Festival nonetheless.
Due to a family emergency and a traveling trip to Germany I won't be able to attend and support the first two shows of the 2019 West Coast Dressage shows," said Sabine. "I would like to offer to sponsor one rider for one of the 2019 shows in Temecula- a rider who would not be able to afford to compete otherwise."
Schut-Kery will pay $1,000 which must be spent on a horse stall, a tack stall, minimum 2 tests, show fees and shavings.
"It will be a great opportunity to ride in front of and get the feedback from highly qualified judges and you will have the chance to watch some of the top riders in the country warm up and compete their horses (education !!!!)," Sabine explained. "This show series is so important to those of us on the West Coast and I would like to help, in my little way that I can, help to get many entries to support the show and help at the same time someone in our dressage community."
The idea to sponsor one rider was proposed to her by fellow FEI rider Elizabeth Ball. 
Applicants can email Sabine at: kerysabine@gmail.com. Sabine wants to hear a little bit about yourself, what your goals are, and why you would be a good candidate for this. Deadline for applications is 10 February 2019.
Related Links
American Dressage Squads for 2019 Named
Schut-Kery's Sanceo Out of 2018 U.S. WEG Team Contention
Schut-Kery and Sanceo Win World Cup Qualifier at 2018 CDI-W Del Mar
Ride to Rio Raises Ove $80,000 for U.S. High Performance Dressage Programs