2018 PSI Auction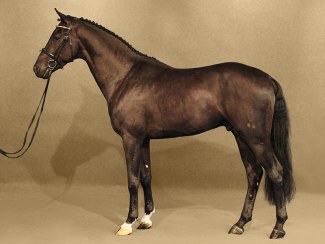 Performance Sales International is the most prestigious annual auction of top class show jumping and dressage prospects the equestrian world has to offer. For the 39th edition on 9 December 2018, organizers Paul Schockemöhle and Ullrich Kasselmann have assembled a new collection of international calibre youngsters that reply to all the demand of any ambitious rider and investor.
This year's dressage collection includes 26 exceptional young dressage horses, several which have proven themselves in the show ring, winning the regional and German national young horse championships. The collection also includes several licensed and performance tested stallions as well as highly talented 3-year olds that are diamonds in the rough. 
2018 PSI Auction Horse in the Spotlight: V-Plus
Name: V-Plus
Breed: Oldenburg
Year of Birth: 2014
Sire: Vivaldi
Dam Sire: Furst Romancier x Sandro Hit
Gender: stallion
Height: XL (over 1.71 m)
A black stallion who enchants onlookers.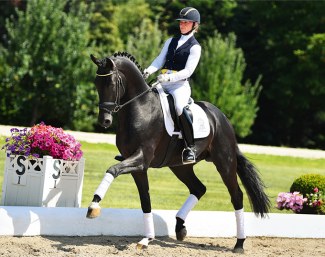 V-Plus is a son of the internationally renowned stallion Vivaldi born and raised at Lewitz stud and carefully trained and prepared at Hof Kasselmann. This is a powerhouse stallion with endless movement potential.
With his riding characteristics, a highly modern type and pitch perfect looks, this stallion inspires all riders. Not only his enormous potential for movement, but also his talent for piaffe and passage prove the quality of his expressive stallion.
V-plus is a truly precious gem for breeding and sport.
Complete Collection Online
The complete 2018 PSI Auction Horse Collection can be found online at www.psi-auktion.de
The live presentations of the collection will be on 1 and 5 December at 18h00 in Ankum. The 1 December presentation will be streamed live at www.psi-auktion.de
For more information on the dressage horses, contact:
Ullrich Kasselmann  - +49 (0) 5401 89 200 
Francois Kasselmann - +49 (0) 171 496 98 65 
Bianca Kasselmann - +49 (0) 171 3868819
Emile Faurie - +49 (0) 171 480 87 68 or +44 (0) 783 124 66 56 
Hartmut Lammers - +49 (0) 175 650 55 80
Insa Hansen  - +49 (0) 172 455 62 16 
Anke de Boer  - +49 (0) 152 218 082 06 
For further information, or to order tickets or a catalogue, please contact the PSI office or use the online order form: 
Order Form
+49 (0) 5401 89 200
auction@psi-sporthorses.de