U.S.A.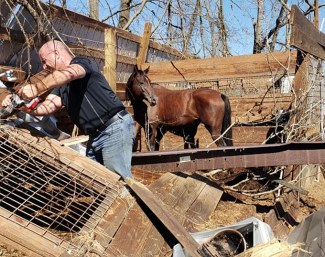 Joe Pimental's Aqua Farms in Panama City, Florida., home to renowned Trakehner breeding stallions Buddenbrock and Hirtentanz, has been wiped out by Hurricane Michael. 
Pimental is the largest breeder of Trakehners in the U.S.A. and owner of elite sire Buddenbrock and Hirtentanz. He suffered a catastrophic loss to his farm when Hurricane Michael struck the Florida panhandle. 
Aqua farms has been devastated with the majority of the buildings completely destroyed. A huge, old oak came down on the main house and the hurricane picked the tree back up and moved it away. The 100' X 300' indoor arena was turned into scrap metal and the roof of the stallion barn was lifted with the horses still standing in their boxes. 
Pimental stands 11 breeding stallions and total of 75 horses, of which two were lost: state premium mare broodmare Zaubernaus, who leaves behind a one-month old orphaned filly, and a 2-year old who sustained extensive injuries and had to be euthanized. Several horses had lacerations from flying debris.
A crowd funding initiative has been started to help Pimental in rebuilding his farm.
Related Links
Elite Trakehner Sire Buddenbrock Sold to Florida
Buddenbrock, Trakehner Stallion of the Year 2010