Germany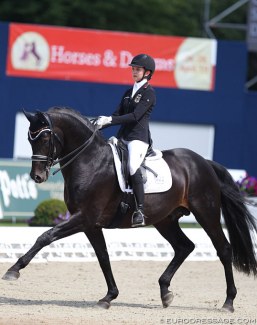 Twenty-one youth riders have been selected to participate in a dressage seminar with team trainer Hans-Heinrich Meyer zu Strohen in preparation of the 2019 Preis der Zukunft competition.
The Preis der Zukunft is a special youth riders' competition at the beginning of the year - this year at the CDN Munster Indoor on 9 - 13 January 2019 - to begin the show season. 
As a preparation to this show, a group of junior and young riders gets invited to a training seminar with the team trainer in Warendorf after which the actual qualified riders for the Preis der Zukunft are named. 
The junior riders meet on  9 - 11 November 2018 and the young riders meet on 30 November - 2 December 2019.
Invited to the training seminar are:
Junior Riders:
Jana Schrödter - Der Erbe
Moritz Treffinger - Freddie M
Emma Gömmer - Sir Robin of Loxley
Sophia Ritzinger - Romano
Elisabeth von Wulffen - Babylon
Lily Bendig - Boscolo
Valentina Pistner - Flamboyant OLD
Henri Schamburg -  Ducati K
Romy Allard -  Summer Rose
Isabelle Bottermann- Valencia
Laura-Franziska Riegel - Corlando
Franziska Nölken - Rigamento Royal
Henriette Schmidt- Rocky´s Sunshine
Franziska Haase- Lorentino
Olivia Schmitz-Morkramer -  Doraya
Lucie-Anouk Baumgürtel - Sweetheart FH
Anna Middelberg - Bodyguard WF
Michelle Moß - Dancing Queen
Young Riders:
Raphael Netz - Lacoste
Cosima von Fircks  - Diabolo
Nadine Krause -  Dancer
Liselott-Marie Linsenhoff - Danönchen OLD
Lana Raumanns -  Feodor
Semmieke Rothenberger - Geisha and Dissertation
Helen Erbe - Dolce Vita and Bocaccia
Linda Erbe -  Fierro
Paulina Holzknecht - Wells Fargo
Laura-Eve Grellmann -  Faynaa
Luna Laabs -  Wild Willy Granly
Julia Rohmann - Roma Cherie
Anna-Lena Vosskötter - Insterlana
Lia Welschof - Don Windsor OLD and Linus K
 Nane Grunwald - Sülberg and Solitaire
Rebecca Horstmann - Friend of Mine
Ann-Sophie Lückert - Fairmont
Sophie Reef - Rue Noblesse and Sir Cedric
Marlene Sieverding - Fuerst Levantino
Johanna Sieverding -  Lady Danza
Alexa Westendarp - Four Seasons and Der Prinz
Photo © Astrid Appels
Related Links
Erbe and Westendarp Win Preis der Zukunft at 2018 CDN Munster
Riders Announced for Preis der Zukunft at 2017 CDN Munster Indoor
Welschof and Rothenberger Win the Preis der Zukunt at the 2017 CDN Munster Indoor
Rothenberger and Abbelen Shine in Preis der Zukunft at 2016 CDN Munster
Kienbaum and Piotrowski In Front in Preis der Zukunft at 2014 CDN Munster
Christin Schütte Wins 2007 Preis der Zukunft at CDN Münster