2018 Swedish Warmblood Elite Foal Auction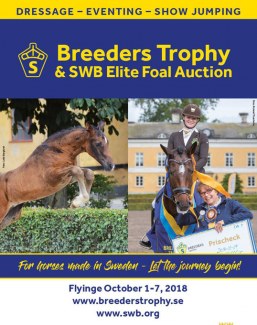 The Swedish Warmblood Association is proud to present the 2018 collection of elite foals, the selection based on looks, movement, the performance oriented bloodlines, excellent dam lines and international pedigrees overall. The auction will take place on Friday 5 October 2018 in the beautiful surroundings of Flyinge, the Swedish National Equestrian Center.
New for this year is that the auction will open with the selling of two embryos. The embryo with a pedigree for dressage is by Vitalis out of Dorina (SWB) – Belissimo M – Don Schufro. The combination of Vitalis, the stallion on everyone's mind; a super producer of top horses and Dorina with her extremely successful dam line having produced many S class horses is bound to attract interest from anyone in the market for a top prospect.
Foals that are bound to attract special attention are for example the athletic colt Charlston CM (by Blue Hors St Schufro – Rubinrot). With the combination of the still young, but extremely promising sire Blue Hors St Schufro and the performance oriented dam line with many S class dressage horses and two siblings that were selected and sold at previous SWB Elite Foal Auctions, this colt is bound for the dressage arena.
The lovely filly Adorable (by Johnson-Florencio I) is following in her full brother Fabulous M's hoof steps with being selected to the Elite foal auction. Fabulous M created quite a stir when he sold at the 2016 SWB Elite Foal Auction for a record sum of 45 000 Euro. This filly will be an invaluable asset regardless whether it's for competition or breeding.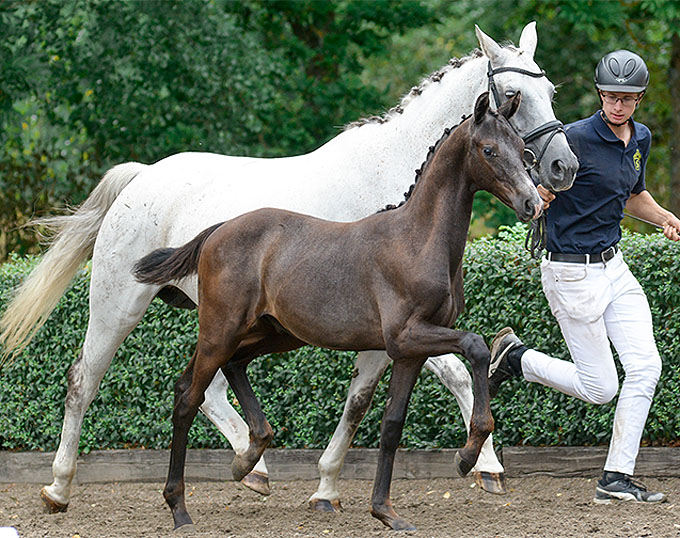 The striking filly Tribeca O'Maly (by Totilas – Don Schufro) is out of a dam line producing not only S class dressage horses; Morell (int GP) and Don Dorn (GP) for example, but also a few with talent for jumping. In combination with the legendary Totilas, today with 20 approved sons, this filly is bound for a great future.
Breeders Trophy
The Elite Foal Auction is the highlight of the week in Flyinge where Breeders Trophy, the Swedish Young Horse Championship is taking place October 1-7. The top 3 - 7 - year old horses in dressage (and jumping and eventing) meet and compete for the coveted Breeders Trophy award. The international top rider, Olympic – as well as WEG gold medal winner Charlotte Dujardin (GB) will be the test rider of the 4 - year old dressage horses on October 6. An event not to be missed!
The SWB Elite Foal Auction is the perfect opportunity to find your next star. Take a look at our collection online at www.swbelitfol.se and catch a glimpse in to the future. The auction is broadcast live via ClipMyHorse. Phone bids are accepted. Please contact Josefine Tinglöf at josefine.tinglof@swb.org to secure your spot for bidding.
Welcome to Flyinge!
For more information, visit www.swbelitfol.se