KWPN Foal Auctions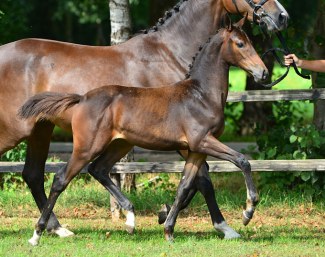 23 jumping, 19 dressage-, two Gelder foals and one breeding mare are part of the collection that will go under the digital hammer at the third KWPN Online Foal Auction on 10 September 2018.
The auction opens on Saturday 8 September 2018 on the auction website www.kwpn.auction.
Almost half of the dressage foals have a dam that is elite with several predicates in the dam line. Therefore, both good movements and a good conformation are anchored. In addition, several foals are closely related to some Olympic dressage horses! In short; a promising collection.
One of the eye-catchers of this dressage foal collection is the Hennessy-son NewYork. His dam Walkure (s.Sir Sinclair) is Z2-dressage and she already brought the ZZ-L horse Dionisos (s.Spielberg). Walkure is half-sister of the KWPN approved stallion Galandro (s.Bon Bravour). The granddam of NewYork is in her turn a half-sister of the Olympic dressage horse Nadine (by TCN Partout) who was ridden by Hans Peter Minderhoud,  and the KWPN-approved stallion Kroonjuweel (s.Belisar), who competed at ZZ-Z level. The KWPN approved stallion Dorado (s.Krack C) and the NRPS-approved Grand Prix horse Karolus van Wittenstein (s.Krack C) are closely related to NewYork. This dam-line produced nearly forty sporthorses at Z1 level and higher, including the international Grand Prix horses Zygrande le Coupied (s.Krack C) and Bond's Painting (s.OO Seven).
Curious? Have a look at the complete collection. The auction opens on Saturday September 8th and closes on Monday September 10th at 7 p.m. CET. Register easily and for free to make a bid.