2018 CDI Leudelange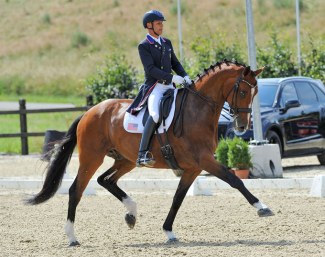 "Today was our best scored Grand Prix so far," Steffen Peters rejoiced. After winning the Grand Prix for Kur on Rosamunde on Friday, he also won the GP for Special on his second Grand Prix horse Suppenkasper at the 2018 CDI Leudelange on Saturday 7 July 2018. 
Peters scored 74,23 % for the victory in the Grand Prix, presented by De Verband. 
"He gives you a great feeling, always has fun while training. Though I do have to be careful for example in the extensions as he does tend to do everything a bit bigger. But today I was able to risk a bit more without him getting hot. Helen Langehanenberg did a fantastic job when she trained him."
Steffen, who is now based at Jewel Court Stud in Wuustwezel, Belgium, with the other American WEG team candidates, is getting to know the 10 year-old KWPN gelding better – and it has been a huge leap from their last start in Rotterdam/NED, where they took third place in the Grand Prix and sixth in the freestyle.
"During the freestyle the music still makes him a quite nervous. I hope this won't be the case tomorrow in the Special here in Leudelange," the American laughed.
Originally American's number one Grand Prix rider Laura Graves was also entered to compete in Leudelange, but they withdrew before the show and decided to focus on the upcoming CDIO Aachen instead.
Steffen's compatriot Olivia Lagoy-Weitz and the Danish warmblood Rassing's Lonoir (by De Noir) came third in the Grand Prix with 70,56% closely behind Danish Victoria  Vallentin on Ludwig Der Sonnenkönig (70,69%).
Fourth place went to the shooting star of the Luxembourg dressage, Nicolas Wagner. "A few mistakes slipped in with my Quater Back Junior that naturally cost us some points. Maybe we just wanted to do it a bit too well, because it was a home game", the 26 year-old grinned. Nicolas Wagner had just won the Special-Tour at the CDI4* in Achleiten/AUT and received the Gold Riders Badge in Leudelange from the head of the association Francois Thierry.
Young Horse Action
The finals for young horses were decided on Saturday. First Lady W under Hendrik Lochthowe/GER won the prize at Peterhof Stud for five-year-olds, Titolas under Susanne Krohn/GER won the CM Promotions prize for six-year-old and Glamourdale with Charlotte Fry/GBR the Jans Constructions prize.
From Luxembourg's point of view on the podium: Mandy Zimmer with her horses Symphony MZ (3rd place 5y.), Herosch MZ (2nd place 6y.) and Dragon Welt (3rd place 6y.) as well as Nicolas Wagner with Rock on Top (3rd place 7y.)
Related Links
Scores: 2018 CDI Leudelange
Eurodressage Coverage of the 2018 CDI Leudelange