2018 CDI Leudelange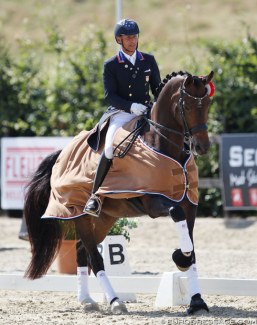 The Grand Prix qualification for the Freestyle, presented by Dressage Grand-Ducal, was won by Steffen Peters on Rosamunde at the 2018 CDI Leudelange in Luxembourg on Friday 6 July 2018. 
With a score of 75.65 percent, Peters topped the board. The American was not only very satisfied with the performance of his mare - he was also enthusiastic about the show. "This is our first time in Leudelange and we're really excited. The ground did not suffer from yesterday's rainfall. With the two indoor riding arenas, there are also ideal warm up possibilities available. Everybody's super friendly. It's great here."
Second place went to his compatriot Ashley Holzer with Havana. With 71.93 percent, she was ahead of the third Sascha Schulz. The Luxembourger saddled his Lusitano stallion Dragao das Figueiras: "I am particularly enthusiastic about the consistency and coolness of Dragao, who was not at all irritated by the changes on 'his' riding facility. He will ride his freestyle to classical music, just like the couple's last victory in Mariakalnok and second place in Brno.
In the St. Georges of the Small Tour, Anke Moordtgat from Belgium and her KWPN mare Estee Lauder referred two Dutch riders Gigi van der Leest to Evita B (69.70 percent) and Geert Jan Raateland on Painted (69.05 percent) to a second and third place. Fie Christine Skarsoe from Luxembourg became fourth on Shy Boy (68.94 percent).
Photo © Astrid Appels
Related Links
Scores: 2018 CDI Leudelange
Eurodressage Coverage of the 2018 CDI Leudelange