Denmark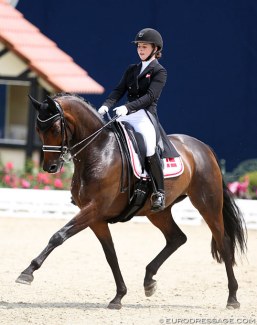 The Danish Equestrian Federation has announced the teams that will represent Denmark at the 2018 European Junior and Young Riders Championships in Fontainebleau, France, on 11 - 15 July 2018. 
Dennis Fisker, Danish youth team trainer, was able to make his final selection of four riders after the last results achieved at the 2018 CDIO-PJYR Hagen at Hof Kasselmann on 15 - 17 June.
Denmark has no riders in the children's division.
Denmark is represented by:
Junior Riders:
Maria Mejlgaard Jensen – Uno
Sara Aagaard Hyrm – Skovborgs Romandinov
Laura Rasmussen – Åtoftens Dornier
Louise Christensen – Quadriga´s Fuerstenqueen
The first reserve is Anne-Sophie Gerstof Sørensen (Camiro Mandø), the second reserve is Anna Piechnik (Kirks Dibsi).
Young Riders:
Caroline T. Elsner – Alskenz Firfod
Karoline Rohmann – Noosa Melody
Sara Van Deurs Petersen – Katholm´s Ronaldo
Josefine Hoffmann – Hønnerups Driver
The reserve rider is Malene Aaborg on Quantico Nexen.
Photo © Astrid Appels
Related Link
Eurodressage Coverage of the 2018 European Junior/Young Riders Championships