Great Britain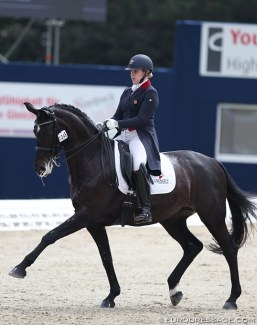 David Trott, Leanne Wall and Nikki Herbert, the British Selection Panel for Children on Horses, Juniors and Young Riders, have announced their representatives at the 2018 European Championships in Fontainebleau, France 9 – 15 July.
A single rider will represent Britain in the Children on Horses while two individuals will fly the flag in the Junior Championship. A team of four, with two nominated reserves will take part in the Young Rider competition.
Chief Selector David Trott commented; "It's been a great spring of competition with some excellent performances both home and abroad although a reduced calendar in Europe has given fewer opportunities for riders to get international scores. My fellow selectors and I have made the decision to only send two individuals at Junior level rather than a team. It was tough and we took into consideration a number of factors, not least cost as the trip is funded by British Dressage. Our primary aim is to send a squad of riders who are medal contenders and this year, we felt there weren't four riders with strong enough scores. We've selected seven strong combinations to represent Team NAF and Britain and if they all perform to their best, we could be in the medal zone."
Children
Lily Payne (14) with Ann Savage's Beckhouse Cancara (12yrs, pedigree unknown)
Junior Riders
Jessica McConkey (16) with her own Lady Gaga (9yrs, by Quarterback x Solos Landwind)
Maddy Whelan (15) fwith Sandy Phillips' Diamond Design (13yrs, by Diamond Hit x Lanciano)
Young Riders
Lewis Carrier (21) with his own Diego V (10yrs, by Spielberg x Welt Hit II)
Charlotte Dicker (19) with her own Sabatini (13yrs, by Stedinger x Sherlock Holmes)
Alexander Harrison (21) with Diamond Hill (7yrs, by Don Diamond x Damon Hill)
Anna Jesty (19) with her own Aquiro (14yrs, s. Aquino x Donnerschlag)
The first young rider reserve is Lucy Amy (20) with her own Extra Time. The second reserve is Amber Barton (21) with her own Labiat. 
The riders will head to Kilbees Farm in Berkshire, by kind permission of the Pidgleys, for a pre-European Championship camp over 5 -6 July ahead of setting off for France on 7 July.
Photo © Astrid Appels
Related Link
Eurodressage Coverage of the 2018 European Junior/Young Riders Championships