The Netherlands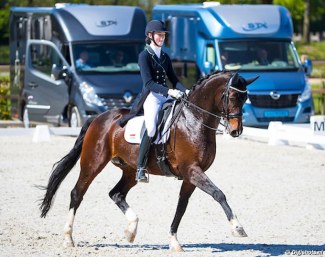 The Dutch equestrian federation has announced the teams that will represent The Netherlands at the 2018 European Children, Junior and Young Riders Championships in Fontainebleau, France, on 11 - 15 July 2018. 
Dutch youth team trainer Alex van Silfhout has opted for a junior riders' team with girls that are all in their last year as a junior. Two are newcomers.  The young riders' team includes girls that have all already won team medals at Championships in previous years. 
Dutch children's team trainer Monique Peutz has chosen the same three riders that won team gold at the 2017 European Children Championship last year and added one debutant to her children's team.
Representing The Netherlands are:
Children
Sanne Buijs - Happy Feet
Lilli van den Hoogen - Woodstock
Lara van Nek - Fariska
Sanne van der Pols - Excellentie
The reserve children's ride is Koosje Visser on Umbra.
Junior Riders
Kimberly Pap  – Vloet Victory
Thalia Rockx – Golden Dancer de la Fazenda (reserve horse Gerda Nova de la Fazenda)
Milou Dees – Francesco
Daphne van Peperstraten – Cupido
The reserve junior is Annelotte Felix on Amos
Young Riders
Diana van de Bovenkamp – Evita Ronia
Esmee Donkers – Chaina  (reserve horse: Zaffier)
Laura Quint – Edison
Febe van Zwambagt  – FS Las Vegas
The reserve rider is Robin Bernoski on Velazquez
Photo © Digishots
Related Link
Eurodressage Coverage of the 2018 European Junior/Young Riders Championships