2018 Bundeschampionate Qualifier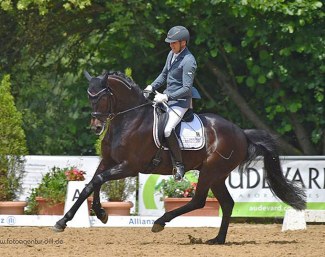 The 5-year old Quaterline T and the 6-year old Der Schufro became the winners of the Bundeschampionate qualification classes held in Babenhausen, Germany, on 7 - 10 June 2018. 
The 5-year old horses contested the L-level dressage horse test on Thursday 7 June and they were judged by Klaus Storbeck, Rolf Beutler-Bath and Thomas Kessler. Ten combinations competed in the class, which was won by Geertje Hesse-Wadenspanner on Hans Reisinger's Hanoverian gelding Quaterline T (by Quaterback x Hotline). The pair scored a total of 8.4 with 8 for walk, and 8.5 for trot, canter, submission and general impression. Franz Trischberger and Anja Gutschmidt's Hanoverian stallion Ferrantino (by Furst Romancier x Londonderry) were the runners-up with 8.2.. The black stallion got 7.5 for walk, 9 for trot, 8.5 for canter, 7.5 for submission and 8.5 for general impression. 
In the 6-year old division on Sunday 10 June, eleven combinations rode the M-level dressage horse test in front of judges Sonja Pilton, Wolfgang Schierloh and Gabi Schlicht. Professional Rudolf Widmann topped the board on Gestut Ammerland's Hanoverian stallion Der Schufro (by Der Designer x Schufro) with 8.5. The dark bay stallion got 9 for trot, 8.5 for walk and canter, 8 for submission and 8.5 for general impression. Der Schufro was acquired by Gestut Ammerland at the 2015 PSI Auction for 400,000 euro. Anke Simon and Tanja Schmidt's Oldenburg mare Brunetta (by Benetton Dream x Sandro Hit) were second with 8.1. The black mare got 8.5 for walk, 8 for trot and canter, 7.5 for submission and 8.5 for general impression. 
Photo © Rainer Dill
Results - 2018 Bundeschampionate Qualifier - Babenhausen
5-year olds
1. Quaterline T (by Quaterback x Hotline)  - Hesse­ Wadenspanner,Geertje -  8.40
2. Ferrantino (by Fürst Romancier x Londonderry) - Trischberger,Franz - 8.20
3. De Massimo (by Dankeschön x Show Star) - Schrödter,Sabina -  7.80 
4. Desmond (by Desperado x Dimaggio)  - Bruns,Wibke - 7.70
4. Feruccio G (by Franziskus x Don Frederico)  - Motzet,Julia - 7.70
6. Sahnehäubchen (by Sir Sandro x Laudabilis)  - Livingston,Diana - 7.60
7. Agassi (by Ampere x Quaterback)  - Haug,Nicola - 7.50
8. Eine wie keine (by Elton John x Weltino)  - Bachmann,Carina - 7.40
9. Lemony (by Lemony's Nicket x Wolkentanz I) - Rummenigge,Charlotte - 7.20
10. Durello (by Destano x Sancisco) - Eberhardt,Rolf - 7.10 
6-year olds
1. Der Schufro (by Der Designer x Schufro) - Widmann,Rudolf - 8.50
2 Brünetta (by Benetton Dream x Sandro Hit) - Simon,Anke - 8.10
3 Arosa (by Kentucky x Gribaldi) - Schulz­Wallner,Friederike - 8.00
3 Quadrophenia (by Quasar de Charry x Hochadel) - Bachmann,Carina - 8.00
5 Bonito (by Bostonx Spielberg) - Hamberger,Julia Sarah - 7.60
5 Wyndigo (by Wyntonx Don Schufro) - Weihermüller,Stefanie - 7.60
7 Tamburin Man (by Totilas x Diamond Hit) - Schardey,Emily - 7.50
8 Dontander (by Don Romantic x Florencio) - Simon,Anke - 7.40
9 Little Lord (by Locksley III x Fürst Heinrich) - Förtsch,Michaela- 7.00
10 Desideria (by Millennium x Dimaggio) - Müller,Johanna - 6.90
11 Valentino vR (by Vitalis x Drosselbart) - Jahns,Skadi - 6.60
Related Link
Eurodressage coverage of the 2018 Bundeschampionate