Oldenburg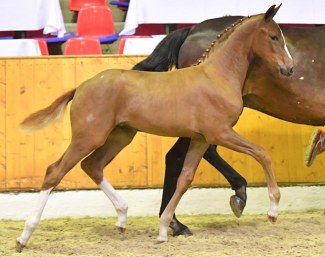 The filly foal Fantasy became the price highlight of the 2018 Summer Mixed Sales held in Vechta, Germany, on Saturday 2 June 2018. The foals took the spotlight in the collection which consisted of a group of talented young sport horses as well as elite foals. 
Fantasy (by Foundation x Romanov x Sandro Hit) shone  as the highest priced seller in the elite foal collection at the Oldenburg Horse Center Vechta. This beauty queen, bred by Lilian Sanktjohanser from Löningen, Germany, sold to a stud with Olympic traditions in Lower Saxony for 107,000 euro.
The colt VIP (by Vitalis x Desperados x Rubinstein I), bred by Gerold Karlovatz in Austria, will move to Sweden for 53,000 euro. The jumper foal Conan (by Cornet Obolensky - Kannan - Cassini I) sold for 25,000 euro. He is bred by Ferdi Hinners-Krogmann from Lohne, Germany.
Danish clients paid 28,000 euro for Fashion Queen (by Franklin x Desperados), while Germans bough Bachelor (by Baron x de Niro) for 25,000 euro. Spanish clients paid 19,000 euro for Top Girl (by Totilas x Sandro Hit) and an Austrian purchased Furstenau (by Furstenball x San Amour) for 18,000 euro.
All in all, the 46 foals generated a turnover of 702,500 Euro. The average price for a foal was 15,500 euro. Sixteen young Oldenburg stars will bring joy to their new owners abroad. They were sold to several countries: Sweden (3), Australia (2), Denmark (2), Italy (2), Switzerland (2), Spain (2), Austria (1), Belgium (1) and the USA (1).
In the sport horse collection First Vision (by First Choice - Romanov Blue Hors - Donnerhal) became the top priced horse. This extraordinary mover, bred and exhibited by Weihegold OLD's breeder Inge Bastian from Bargteheide, Germany, sold to a dressage stable in Norway for 80,000 euro.
The second most expensive horse was a show jumper: Calimero (by Contefino - Loredo - Grannus), bred by Nadja Steininger from Gardelgen and presented by Lieneke Brouwer from the Netherlands. He was knocked down for 70,000 euro to customers from Switzerland.
Carlton (by Cafe au Lait x Don Frederico) sold for 38,000 euro to Belgium and Spanish clients purchased Christina (by Christian x Lordanos) for 32,000 euro. Koreans bought Delivery (by Destano x Pik Noir) for 28,000 euro.
The average price in the sport horse collection settled at around 26,500 Euro. The 20 sport horses brought a total of 525,000 Euro. Nine Oldenburgs will start an international career, and will move to Spain (2), Belgium (1), Canada (1), Netherlands (1), Norway (1), South Korea (1), Sweden (1) and Switzerland (1).