2018 CDIO Compiègne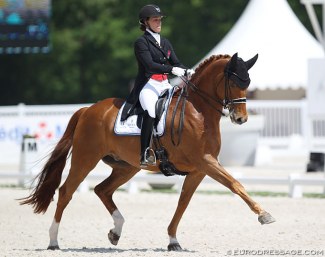 Team Sweden won the Nations Cup at the 2018 CDIO Compiègne on Sunday 20 May 2018, securing a first-place standing so far in the quest for reigning dressage nation in the 2018 FEI Nations Cup series. 
Cathrine Dufour of Denmark, however, was the dominating rider of the show. Aboard her steady partner, the 15-year old Danish warmblood Atterupgaards Cassidy (by Caprimond x Donnerhall), she had a dazzling freestyle ride, which pushed her team into second place. Her fresh, modern programme won her a score of 84.250 from the five judges and made her the only rider in the kur to break 80%.
Dufour showed terrific harmony with her horse and handled challenging musical changes, where it would be easy to see errors, with grace and calm. Staying perfectly with her music throughout her programme, the young Dane showed off Cassidy's stellar extension throughout the entire frame and his active hind end working through on every movement.
Patrik Kittel of Sweden finished in second place aboard Well Done de la Roche CMF, using jazzy, cabaret-style music to demonstrate his horse's pretty passage and ability to handle consistent and meticulously clean tempo changes.
His score of 78.950 boosted team Sweden to the top of the FEI Nations Cup™ Dressage standings after this weekend.
Third place in the freestyle was awarded to Gareth Hughes of Great Britain, who used contemporary music with a driving beat and very light contact with his horse, Classic Briolinca, to wow the judges with controlled and elegant extended work.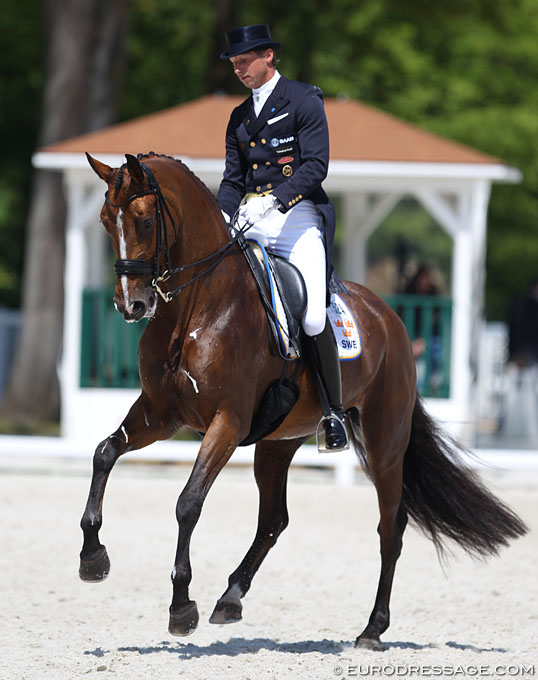 The crowd at Compiègne, part of the Oise department north of Paris, enjoyed an entire weekend of top riding at the "Internationaux de Dressage."
Sunday's final event brought a lovely sunny afternoon, and families gathered on the shaded grass seating, soaking up the action in the outdoor arena.
The first group of six riders in the freestyle saw a few fine performances, especially from Patrick Van Der Meer of the Netherlands, who held the lead into the second half of the event and ultimately finished in sixth place with a score of 73.500. Using tricky changes of direction in his tempi, Van Der Meer made his programme look not only difficult but interesting, and he rendered an expressive programme that took advantage of dynamic changes in his music.
Eventually, Van Der Meer's lead was broken, by Rose Mathisen of Sweden, who finished fourth with a score of 74.700. In spite of a few contact issues and an occasional open mouth on her mount, Mathisen turned in a programme that stayed right on her music and highlighted a gorgeous frame in the canter and a demanding piaffe pirouette.
Fifth place in the freestyle event went to Hans Peter Minderhoud of the Netherlands (74.300), who took risks with a down-tempo half pass and displayed his muscular horse's huge ground covering ability.
The final top eight spots went to Morgan Barbançon Mestre (72.350) and Marie Emilie Bretenoux (70.275), both riding for France and eliciting big cheers from the home crowd with great equine activity and emotional music.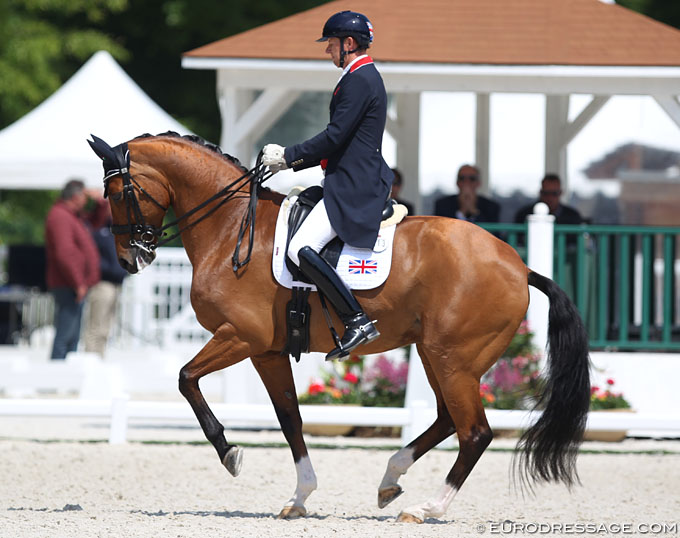 The FEI Nations Cup Dressage competition will be a stiff race to the autumn finals, if this weekend has anything to say about it.
Whilst Sweden and Denmark are 1-2 in the lead, the Netherlands is giving them good chase. Great Britain, Belgium, France, and Switzerland are close behind, and the level of riding will only improve as the summer goes on.
Text by Patricia Salem for the FEI - Photos © Astrid Appels - No Reproduction Allowed
Eurodressage was on the scene in Compiegne. If you are interested in photos for prints or social media, send us an email
Related Links
Scores 2018 CDIO Compiègne
Minderhoud and Dream Boy Top 2018 CDIO Compiègne 3* Grand Prix
The Countdown is On for the 2018 CDIO Compiègne