2018 PS Online Auction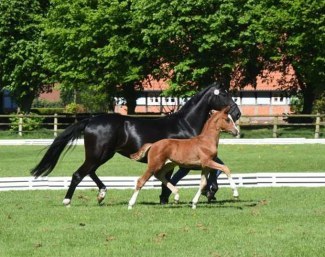 Fein Index (by Feinrich x Don Index) became the best selling dressage foal in the fourth Paul Schockemohle Online Foal Auction which concluded on Sunday 27 May 2018. 
The collection of foals primarily included show jumpers, but nine dressage foals were on offer as well. The top seller was the jumper filly Presley Girl (by Presley Boy x Chacco Blue) which sold to Mexico for 45,000 euro.
The price highlight for dressage was Fein Index (by Feinrich x Don Index x Rotspon) which sold for 22,000 euro to Spain. 
Sir Matcho (by Sir Donnerhall x Furst Heinrich) stays in Germany for 16,500 euro, while Furstin Amour (by Furst Romancier x San Amour) sold for 10,000 euro to the U.S.A. 
German clients bought San Heinrich (by San Amour x Furst Heinrich) for 9,500 euro, Total Totalis (by Total US x Vivaldi) for 9,000 euro, and Vitina (by Vitalis x Bordeaux) for 7,000 euro.
A french customer paid 8,000 euro for the filly Viva Maria (by Vitalis x Bordeaux); Belgians bought Founderry (by Foundation x Londonderry) for 6,000 euro, and an American paid  7,500 euro for Great Riccio (by Great Schufro x Riccio).
Photo © Kiki Beelitz
Related Links
Fourth PS Online Auction with Collection of 25 Stunning Foals
Vilando, Top Seller at 2017 PS Online Colt Auction
Vivanesse, Top Seller of Second 2017 PS Online Foal Auction
Vuitton, Top Seller of 2017 PS Online Foal Auction