2019 CDI Hagen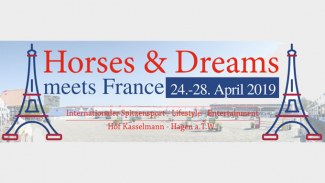 With Horses & Dreams meets the Royal Kingdom of Jordan just finished and with the world's largest international youth equestrian festival "Future Champions" just around the corner, the planning for Horses & Dreams 2019 is already well under way. It is with pride that the P.S.I. Events team and the Kasselmann Family announce that France will be the guest country for Horses & Dreams from April 24th to 28th 2019.
In just under a year Hagen a.T.W. will once again welcome the equestrian elite to compete at Hof Kasselmann. As is tradition, Horses & Dreams will reopening the green season, giving riders the opportunity to present themselves in the fresh air after a long winter of indoor competition. The athletic schedule will include international showjumping and dressage at the four star international level, as well as classes in both disciplines for young horses and amateurs.
Guests can expect to be transported to France through flavors, smells, sounds, and aesthetics. Horses & Dreams is known for an athletic program balanced with culture and a little something for everyone. Visitors can look forward to a French village filled with vendors selling traditional products, including foods from Parisian to Provincial, as well as entertaining show acts with French flair.
In addition to its reputation as a country of gourmets, France also boasts a long and strong history of equestrian sports. 45 medals went to riders under the French flag known as the "Blue-Blanc-Rouge". French riders are constantly among the top ten world wide, particularly in show jumping, and are also frequently among the regulars at Horses & Dreams.
"I am very much looking forward to the having France as our guest country in Hagen, we have great friendships in France, and it is wonderful to be able to honor those friendships in this way." Said host Ullrich Kasselmann about the news.
Ticket Shop notifications for Horses & Dreams meets France: www.adticket.de/Horses-Dreams.html 
Related Links
Eurodressage Coverage of the 2018 CDI Hagen
Hof Kasselmann to Host First Horses & Dreams Online Auction in 2018