U.S.A.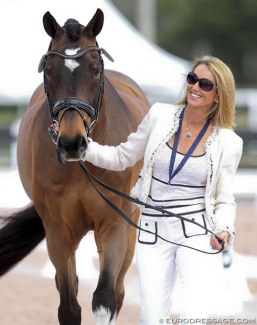 US Equestrian has announced the updated Dressage Elite Program and Pre-Elite Program lists following a series of training observation sessions and home visits.
Robert Dover, Technical Advisor, said, "We have conducted a series of training observation sessions with our Pre-Elite combinations, as well as home visits with our Elite athletes on both coasts through the winter and the spring. The standard in both of these groups is growing rapidly and increasing the depth of great combinations. We are looking forward to the remaining CDIs in the U.S. this year, strong representation in European CDIOs and CDIs, our national championships, and, of course, hosting the FEI World Equestrian Games™ in September. It is guaranteed to be an exciting year and I feel very optimistic about our eventual selection of a strong team for the FEI Word Equestrian Games in Tryon."
The Elite Program was established to provide support and resources to athlete/horse combinations that have proven they are internationally competitive.
Combinations qualify for the program based on scores received at CDI3*/CDIO3* or above competitions in the last 12 months.
Elite Program:
Shelly Francis (Loxahatchee, Fla.) and Danilo, Patricia Stempel's 14-year-old Hanoverian gelding
Laura Graves (Geneva, Fla.) and Verdades, her and Curt Maes's 16-year-old KWPN gelding
Olivia LaGoy-Weltz (Haymarket, Va.) and Lonoir, her and Mary Anne McPhail's 14-year-old Danish Warmblood gelding
Adrienne Lyle (Ketchum, Idaho) and Salvino, Elizabeth Juliano's 11-year-old Hanoverian stallion
Kasey Perry-Glass (Wellington, Fla.) and Goerklintgaards Dublet, Diane Perry's 15-year-old Danish Warmblood gelding
Steffen Peters (San Diego, Calif.) and Rosamunde, Four Winds Farm's 11-year-old Rheinlander mare
Sabine Schut-Kery (Thousand Oaks, Calif.) and Sanceo, Alice Womble's 12-year-old Hanoverian stallion
The Dressage Pre-Elite List underpins the Elite Program and seeks to provide support and guidance to those combinations in the 69-73% Grand Prix score range so they are able to succeed in reaching Elite Member status (consistent 73%+ score range).
Pre-Elite Program:
Katherine Bateson-Chandler (Wellington, Fla.) and Alcazar, Jane Clark's 13-year-old Dutch Warmblood geldin
Shelly Francis (Loxahatchee, Fla.) and Doktor, Patricia Stempel's 15-year-old Oldenburg gelding
Catherine Haddad Staller (Wellington, Fla.) and Semper Fidelis, Rowan O'Riley's 12-year-old Oldenburg mare
Ashley Holzer (New York, N.Y.) and Havanna 145, Diane Fellows's 11-year-old Hanoverian mare
Charlotte Jorst (Reno, Nev.) and Kastel's Nintendo, Kastel Denmark's 15-year-old Dutch Warmblood stallion
Adrienne Lyle (Ketchum, Idaho) and Horizon, Elizabeth Juliano's 11-year-old Oldenburg mare
Arlene "Tuny" Page (Wellington, Fla.) and Woodstock, her 15-year-old Dutch Warmblood gelding
Steffen Peters (San Diego, Calif.) and Suppenkasper, Four Winds Farm's 10-year-old KWPN gelding
Kathleen Raine (Murrieta, Calif.) and Breanna, her, Jennifer Mason, and David Wightman's 18-year-old Hanoverian mare
P.J. Rizvi (Greenwich, Conn.) and Breaking Dawn, her and Ashley Holzer's 17-year-old Dutch Warmblood gelding
Related Links
USEF Announces Updated Dressage Squads for 2018
Long Awaited Come Back for Perry's Dublet at End of 2018 Wellington Season
Top Eight U.S. Pairs Invited on Euro-Tour before 2018 WEG Team Selection
First Members for Discover Dressage Emerging Athlete Program Picked