2018 CDI Mexico City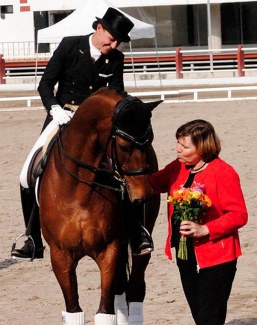 For Mariana Quintana Rivero the show season has kicked off to a banging start as she and her trusty mount Benzema swept the board at the first international CDI in Mexico this year. 
At the 2018 CDI Mexico City, which served as a qualifier for the 2018 Central American and Caribbean Games, Quintana and Benzema won the Prix St. Georges. In a large field of 21 combinations and a class officiated by judges Cunningham, Tubman, Colliander, Osinski, Hotz, Quintana scored a winning 70.618% as the only rider to break the 70% barrier.  She beat Mexican Olympian Bernadette Pujals, who has dropped her Grand Prix horse Heslegaards Rolex back to small tour level. Pujals and Rolex earned 68.706%.
During the test we were really together. In some moments I could have asked for more, but you know, this is only the beginning of the trials so I feel there is no need to risk all in the first day (like in the medium and extended trot), also because everything was so nice and through.
We got eleven 8's from one of the judges so I think our work is going in the right direction.
In the Intermediaire I, Quintana and Benzema continued to rule the roost and scored a winning 69.73% ahead of Bernadette Pujals on the 13-year old Baron de Ley W (by Breitling), who is now in his third year at small tour level. Pujals received 67.853% from the judges. 
"I am so proud of him," Quintana told Eurodressage after her winning weekend. "He is such a sensitive horse, very special. With him, everything is about positive reinforcement, in a nice way, otherwise he blocks himself and gets overwhelmed. He needs to be ridden in a very correct way, I remember  Conrad Schumacher always asking his students: 'Have you ever tried with riding? I rely on the aids - you can be impressed, most everything can be fixed by riding'."
Quintana said that the first day at the CDI was quite challenging as the warm-up did not go as planned. 
"The warm-up was really good, but then out of the blue, behind the warming up arena there were some kids playing quite loudly, he got a bit distracted and excited, I was asking for flying changes and he missed a couple, I talked to him and got to the mental strength coaching I have been working on, it is then that I get to connect with him deeply, and it becomes easy to put him back on track and focus in our work again. When we went around the ring he was flying in this huge canter, he was super, energetic, and relaxed. On Sunday the warming up was absolutely wonderful. Everything I asked him to do he did right, waiting for the instructions, through the back, long neck, in front of the leg, enjoying every moment, very happy. Really, it was amazing. So by 12:20 we were ready to go to the arena but the scheduled time for my test was until 12:43 - we needed to wait, the heat was pretty intense and somehow I miscalculated the time and I felt him getting tired. Unlike other horses he gets excited and a bit tense when he gets tired. There were some tight moments during the test like the rein-back, even though we got a good score, I know there is still much room to improve."
The 37-year old Mariana Quintana has been competing her 15-year old Hanoverian gelding Benzema (by Baroncelli x Forrest xx) at international small tour level since 2014. She began her international show career in 2011 on Bellagio Kevotiv, and bought Benzema at Jan Dirk Giesselmann's yard in Germany after a 6-month search for a suitable horse. The pair represented Mexico at the 2014 Central American Games in Veracruz, where they won team gold and finished fifth in the Kur to music.
"At that time, I was working and training with Jonny Hilberath so I took Benzema there with me and we started training with Jonny. I then came back to Mexico for the trials of the Central American games where we won a spot in the team," said Mariana.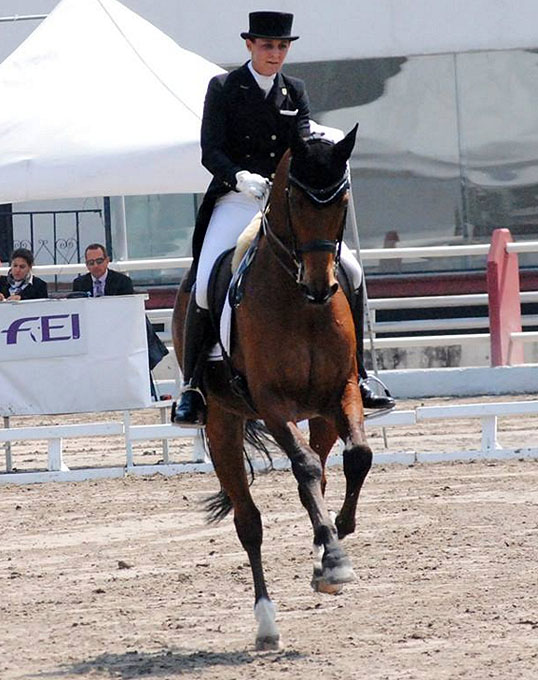 In Mexico she trains on her own, but relies on the classical techniques of Conrad Schumacher, but she also occasionally clinics with Gary Rockwell and the Mexico based Joaquin Orth. She has had a very focused winter training campaign, slowly preparing Benzema for the Grand Prix.
"Like Mr. Schumacher always says, "Basics are everything". I always make a point in training according to the dressage training pyramid: every step from rhythm, relaxation all the way to straightness and collection," Mariana explained. "I also started to work in some Grand Prix exercises again like piaffe - passage, the zig zag and the pirouettes."
Benzema disappeared from the international show scene after their last CDI in Mexico City in April 2015. Quintana qualified on the Mexican team for the 2015 Pan American Games in Toronto aboard her second ride Guapo, but the horse failed the vet check. Three years later Benzema returned to the same location and on winning form. This was Quintana's first international victory in her career.
"After Toronto I went back to Germany with four other horses besides Benzema to Ulla Salzgeber's for some months and then with Jan Bemelmans and Borja Carrascosa," said Mariana. "It is amazing how much you can learn from them just by watching! And the lessons are beyond anything. I love Mexico but the horse ́s world is in Europe, I wish I could spend more time training there, going to their shows, it is a very different experience, much more competitive, with amazing horses and amazing riders.
Quintana has her mind set on qualifying for the 2018 Central American Games in Barranquilla, Colombia this summer. After that she will take Benzema to Grand Prix. She has three further horses in the barn: the PRE bred rising Grand Prix horse Lloron, the 5-year Fiesta Negra (by Furstenball x Weltmeyer) and the small tour mare Voila (by Donnerhall x Sandro Hit), which is owned by Buba Pierce and Gonzalo Fernandez.
Related Links
Scores 2018 Mexico City
Mexican Team for 2015 Pan American Games Announced
Palacios Makes it a Hattrick at Third 2015 Mexican Pan Am Selection Trial
Enrique Palacios Wins First 2015 Mexican Pan American Selection Trial at Tultepec
Mexico Wins Team Gold at 2014 Central American and Caribbean Games