2018 CDI-W 's Hertogenbosch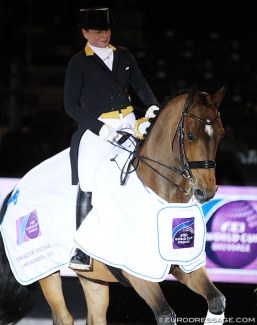 With the biggest smile on her face that said it all as she strutted down the centreline for the final time, defending series champion, Germany's Isabell Werth (48), nailed her fourth win of the season at the last qualifier of the World Cup™ Dressage 2017/2018 Western European League in 's-Hertogenbosch, Netherlands on Saturday 10 March 2018.
On an afternoon when many of the early starters were hampered by spooky moments in the ring, the second-half contestants really raised the bar, and once Werth and Emilio took their turn when fifth-last to go, her score of 87.405 would be the winning one.
They weren't the only partnerships to bring the crowd in the Brabanthalle to their feet however, as home runners Edward Gal (48) and Zonik got the same treatment when slotting into second on 83.900 following a great test. And, last in, compatriot Madeleine Witte-Vrees (45) and Cennin posted 82.555 to demote Germany's Jessica von Bredow-Werndl (32) and Zaire-E to fourth place. The packed stadium of spectators enjoyed a real treat in the closing stages, but it was all about Isabell once again as she marches towards the 2018 World Cup™ Dressage Final in Paris, France next month to chase down her second successive title and her fourth overall.
She has rarely looked more happy and confident throughout the extraordinary career during which she has become the most medalled athlete in equestrian sport. And with two wins from her superstar Olympic ride Weihegold and another two from Emilio who was at his very best today, her horses are also in the form of their lives this winter. Weihegold the wonder-mare is of course her first choice for the Final, but Werth was thrilled with her 12-year-old gelding whose presence in the ring seems to grow with every outing. Pinned back to second place in Gothenburg, Sweden two weeks ago he stepped it up even more this afternoon.
"Emilio certainly showed an improvement today, he was amazing, he felt like 90%," said Isabell Werth GER (1st).
Another with a big smile at the end of his ride was 2010 champion Gal who can't help but be excited by the rapid development of his fabulous 10-year-old stallion, Zonik. "He's improving so fast, this was only his third World Cup! There are a few little things that need improving, but he keeps surprising me," said Edward Gal NED (2nd).
The 2018 Final will be another big test for this lovely young horse, and the Dutch are looking stronger by the day, with Witte-Vrees' stallion Cennin still only 11 and also looking mature beyond his years.
Today's result has decided the Western European League qualifying spots for the Final which takes place from 11 to 15 April at which nine riders from six nations - Austria, Denmark, Germany, Great Britain, Netherlands and Sweden - will do battle with the rest of the best in the world. Britain's Emile Faurie just squeezed into equal-eighth place despite having to withdraw from today's competition with his gelding, Lollipop.
FINAL World Cup™ Dressage Western European League standings, after last leg in 's-Hertogenbosch (NED). Top 9 goes to Paris
1    Patrik Kittel SWE    74
2    Dorothee Schneider GER    72
3    Jessica von Bredow-Werndl GER    62
4    Madeleine Witte-Vrees NED    56
5    Edward Gal NED    55
6    Daniel Bachmann Andersen    54
6    Tinne Vilhelmson Silfven SWE    54
8    Belinda Weinbauer AUT    53
8    Emile Faurie GBR    53
10    Fabienne Lutkemeier GER     50
Text and Photos © Astrid Appels - No Reproduction allowed
Eurodressage was on the scene in Den Bosch to take photos of the Grand Prix test. If you are interested in prints of digital files for social media use, contact us.
Related Links
Scores: 2018 CDI-W 's Hertogenbosch
Werth Back on Top, Wins 2018 CDI-W 's Hertogenbosch Grand Prix
Eurodressage Coverage of the 2017-2018 World Cup Show Season